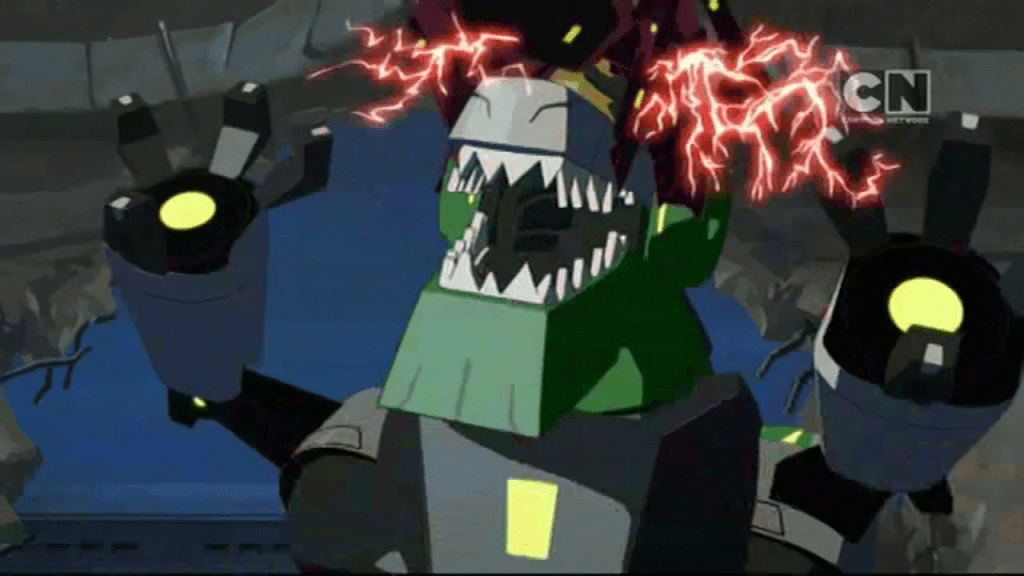 Should you watch this, Wiki this, or wait for the next episode's recap? Watch this.
Both Russell and Fixit are feeling like useless third wheels, even as the Autobots take down another Decepticon criminal, Bisk the lobster Decepticon. But a more sinister threat looms – Chop Shop the combiner! The Autobots must work together to prevent Chop Shop from fulfilling his plans. But when Chop Shop commandeers Fixit as his own appendage, can they bring themselves to fight their former ally?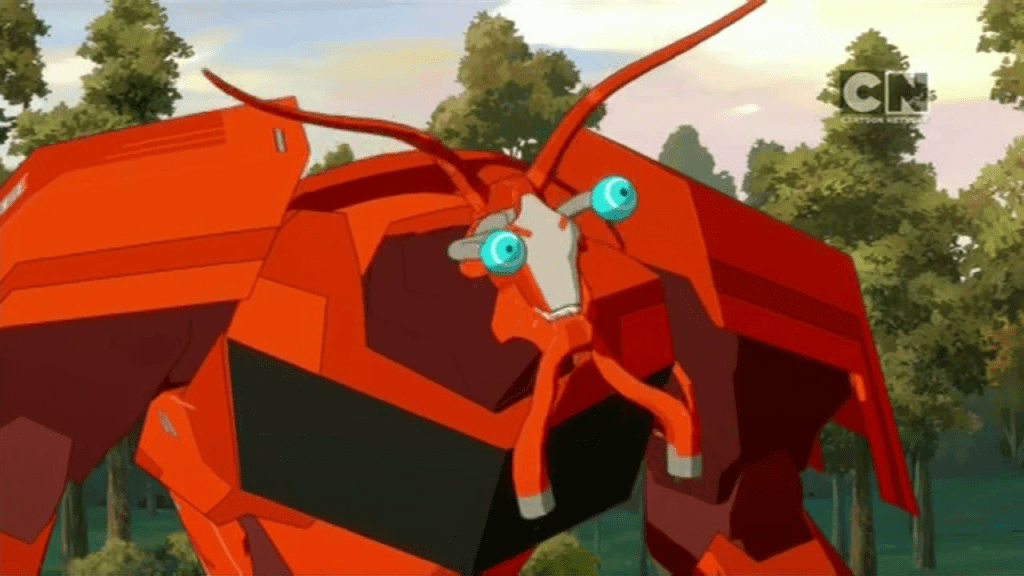 "More than Meets the Eye" is the fourth episode of the first season of Transformers: Robots in Disguise. It's the sequel series to Transformers: Prime, and revolves around Bumblebee and his group of cadets on Earth, with a subplot involving Optimus Prime pursuing a mystical mission in the afterlife. This episode sees the Autobots going after two Decepticon criminals – Bisk, and then Chop Shop.
"More than Meets the Eye" is full of fun ideas, showing us the creative range of "Transformers: Robots in Disguise" in terms of what they can do with Transformers. While I still miss the sense of grandeur and power that "Transformers: Prime" conveyed with each episode, I'm getting use to the style and tone of "Transformers: Robots in Disguise." It's not entirely childish – there are elements that appeal to adults. It's just that the depth of the stories no longer plunge so deep, and it's really apparent that it's geared as a kid's show now.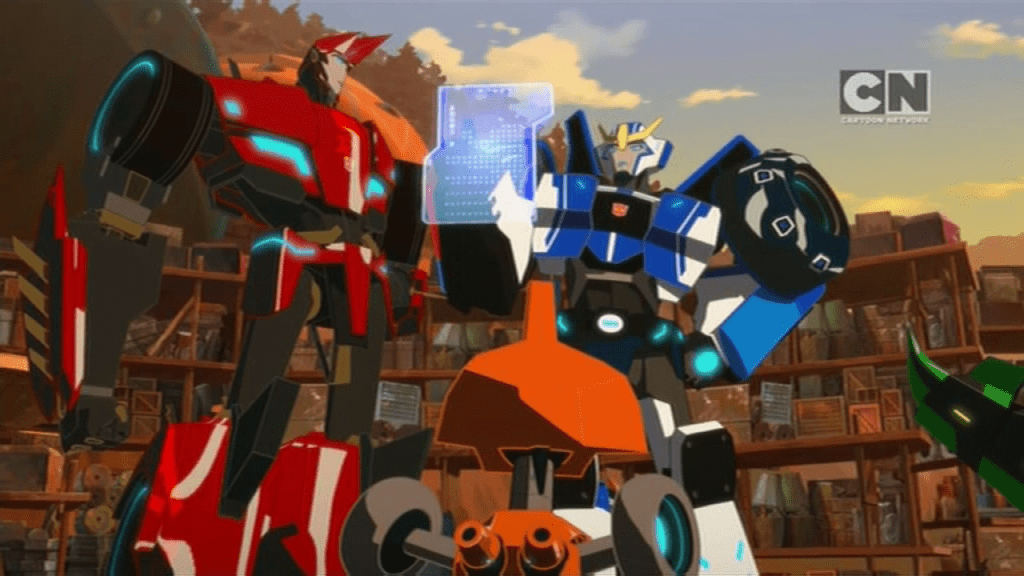 Highlights
Chop Shop the combiner
It's… an odd way to introduce combiners to the series. I remember all the other times combiners are introduced, in previous Transformers series, there's either a sense of doom (if it's a Decepticon combiner) or hope (if it's an Autobot combiner). Here, it's treated as something that's completely run-of-the-mill. I get the sense that this is to set up something far more epic in future, but I could be wrong.
Besides, he gets to make use of Fixit as his arm!
Spotlight on Fixit
Thankfully, Fixit isn't as insufferable as early reports had indicated. And not being a warrior, he can't go on missions as often as the other Autobots, so the only time we see him is either with the humans, or when he has to deliver exposition. So to see Fixit get so much attention in this episode is a good change of pace,and also helps develop Fixit's character further.
Pun on Bisk
I chortled upon first hearing his name. A lobster Transformer named Bisk? Are you kidding me? A reference to lobster bisque? Woot! I like lobster bisque. It's my favourite soup. This shows the sheer gamut of names that are possible, especially when it comes to new Transformers. In any case, I loved the wordplay. I also like that we see more Decepticons per episode now, because it means that in the season finale… ARMY OF DECEPTICONS!
Thematic connection between human and Transformer story
Narrative-wise, this was a clever touch, to link both Russell and Fixit's insecurities together, and have them come to a similar understanding of their own flaws and strengths. It makes Russell that much more important, and forges an important link between the humans and Transformers. Strong links are needed because otherwise, there's no real reason to be watching about humans in a show about giant robots.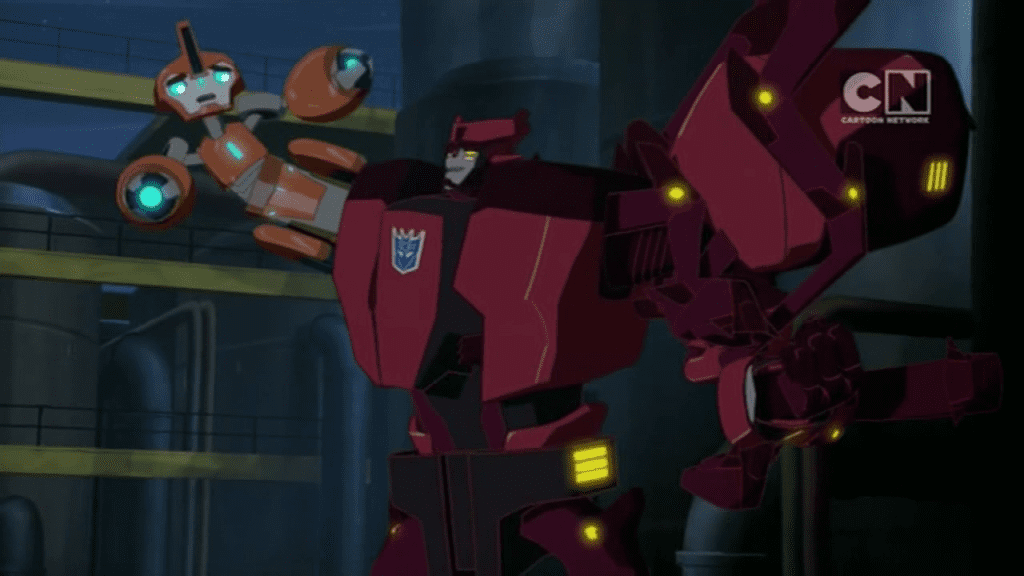 Letdowns
Chop Shop seems overpowered
He does, doesn't he? Bisk was taken down fairly easily, but Chop Shop needed so much special attention that I was wondering – what warrants it? He's not portrayed as being that much more powerful than the Autobots, yet they need to go through such great lengths to defeat him. I hope this isn't the case for every Decepticon criminal they overcome.
Too much time spent on the human story
Although I mentioned the importance of linking the human and Transformer story together, we really didn't need to see the whole neighbourhood, Russell's new soccer friends, so on and so forth. More fighting or Transformers interacting would have been far more interesting and dramatic than some kinds playing soccer.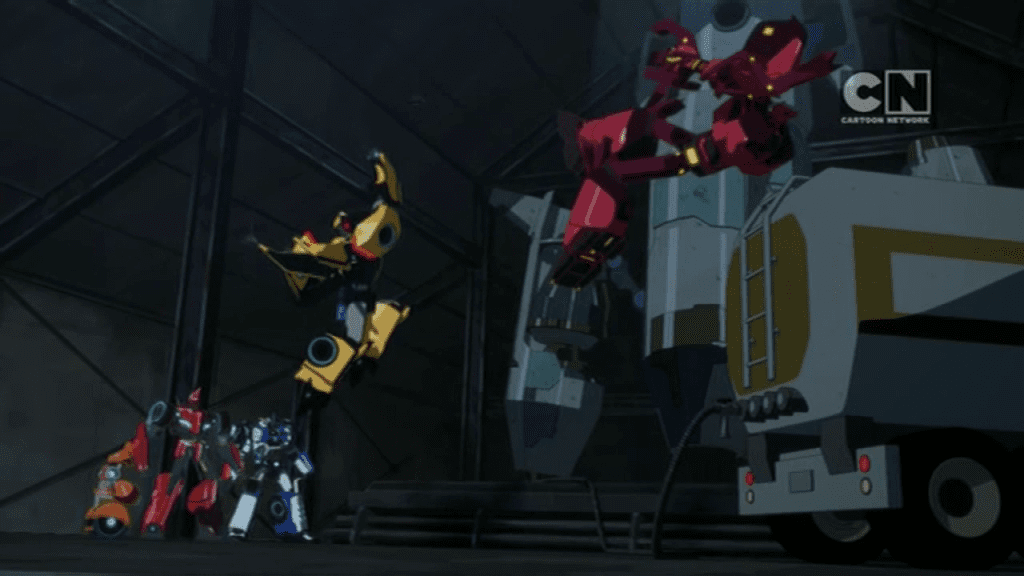 "More than Meets the Eye" is a great episode, mainly because it introduces the concept of combiners into the "Transformers: Robots in Disguise" universe. I'm still wondering what kind of giant combiner they'll meet later on in the series (especially given that we're doing Combiner Wars in the main Transformers line now), but for now, Chop Shop's errant limb will fire up my imagination.