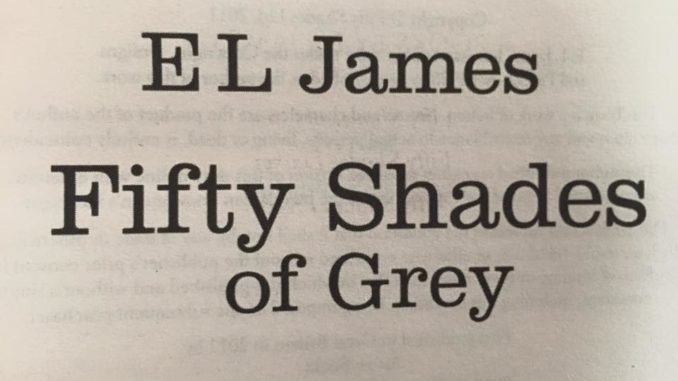 Should you buy this book? Yes, so that you can lend it to as many people as possible.
Should you borrow this book? Sure. Then watch the movie. 
"Fifty Shades of Grey" by E. L. James is the first book in the "Fifty Shades" trilogy (which counts this book, "Fifty Shades Darker," and "Fifty Shades Freed"). Yes, it's a trilogy. Also, E. L. stands for Erika Mitchell, so you don't have to Wiki it anymore. The story centres on the relationship between hapless but entitled damsel Anastasia Steele and the perfect-except-for-his-crippling-BDSM-addiction Christian Grey, who isn't Christian.
There's absolutely no way you can take this book seriously. Instead, take it as what it originally was – fan fiction – and have fun enjoying the story and writing. It's not so much mocking the book, as it is understanding the intentions behind writing it, and the purpose that it fulfills. In that context, "Fifty Shades of Grey" is a rather hilarious read. Also, read the book first then watch the movie, not the other way around. It'll work out better for you.
Highlights
Easy to read
If there's one thing that this book has going for it, is that it uses very simple sentences and storytelling structure. It lays everything out for you, and what you see is what you get – there's no pondering the deeper meanings or potential ramifications of events, because it's all spelt out there for you. You can breeze through it pretty quickly and very easily.
Good pacing
Perhaps it's due to her background in television, but E.L. James also has the pacing down pat. New revelations and unexpected events happen at a comfortable pace, keeping you wondering what will happen next. It's not so fast as to confuse you with a blitzkrieg of new information, but not so languid that it bores you.
New information on the art of love
Well, that's what everyone is really reading it for, right? Suffice to say that it does give you a few new ideas on the delicate topic, and it acts more as a starter kit than a thesis on the topic. Some of the scenes verge on the territory of obscure personal fetishes, but that's what gives the book that raw, genuine feel.
Letdowns
Protagonist is annoyingly unlikeable
This boils down to two factors. The first is that she's rather entitled and selfish. Despite Christian Grey's many obvious and significant gestures of love, she can't seem to be satisfied, and is constantly doubting his intentions and dubbing him a stalker and other derogatory labels.
The second is her inner voice, her inner goddess. You just want to slap some sense into this immature little girl who keeps on saying stupid things. What kind of delusional person even thinks the way her inner voice says?
Suffice to say, the sum total is that Anastasia Steele comes off as one of the dumbest, most selfish female leads ever to grace a book.
Ana's unrealistic love interest – Christian Grey
Christian Grey is, of course, a personal fantasy, but he also has absolutely no flaws. Any flaw he has is quickly reworked as a strength, resulting in a very tiresome hero worship of him. If one protagonist is stupid and self-centred, and the other protagonist is a god, what possible conflict or tension can there be?
Abrupt and ridiculous conflict
The climax of the book comes out of nowhere. Ana gets upset at one of Christian's character traits, so much so that it prompts her next drastic action. The problem is that this supposed revelation of Christian's character trait has been telegraphed throughout the entire book. How is this a surprise? Why is this even an issue at this point? It all goes back to supporting the idea that Ana is a clueless, egotistical woman.
Too many adjectives
This isn't even purple prose. Instead of writing, "Ana and Christian went to the supermarket to buy apples," it'll turn out as "Beautiful Ana and handsome Christian cheerily went to the ostentatious supermarket to carefully buy amazing apples." Half of the words in the book are adjectives. It's like she pressed the "Passion" button too hard on the Great Automatic Grammatiser. The adjective overdrive is crazy. Add to the fact that the writing is very simplistic, and it looks like an 11-year-old girl wrote this book for a project or an exam.
"Fifty Shades of Grey" is pretty entertaining as far as light reading goes, although it's not something that will change your life or give you precious new insight. It's literally someone's fantasy being played out in a book, but it's a common enough fantasy that it resonates with such a large female crowd. So take it for what it is, and enjoy the ride.
Also remember to read my movie review of "Fifty Shades of Grey" here when you're done!
This is an original article on marcusgohmarcusgoh.com
---
Follow Marcus Goh (yes, referring to myself in third person) on Facebook and Instagram for more (presumably) good updates!
I'm a Singapore television scriptwriter who's written for Lion Mums, Crimewatch, Police & Thief, and Incredible Tales. I'm also a Transformers enthusiast and avid pop culture scholar. You can find me on social media as Optimarcus and on my site.
Send me an email if you want to get in touch!
---
---