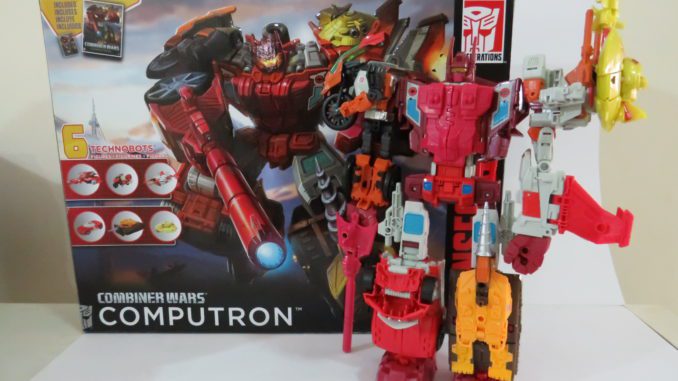 And finally, we're here! The combined form of Computron awaits. In his Transformers: Combiner Wars incarnation, he's made up of
He's a 7-bot team! Admittedly, Cybaxx is virtually a Minicon in size, but he still counts as a Transformer, no? Most of the other Combiners in Transformers: Combiner Wars have 5-6 members, so Computron is the combiner with the most number of bots in him.
His team is known as the Technobots, and seeing as how they've got part of Unicron and part of Grimlock within them, they're probably one of the most powerful (or dangerous) Combiners around. Being super smart also means they're more suited to being supervillains (since you could feasibly claim Unicron's influence on them), and you know what? I'd like to see them as bad guys one day. Maybe a Shattered Glass version. Hey, that's a cool customisation idea!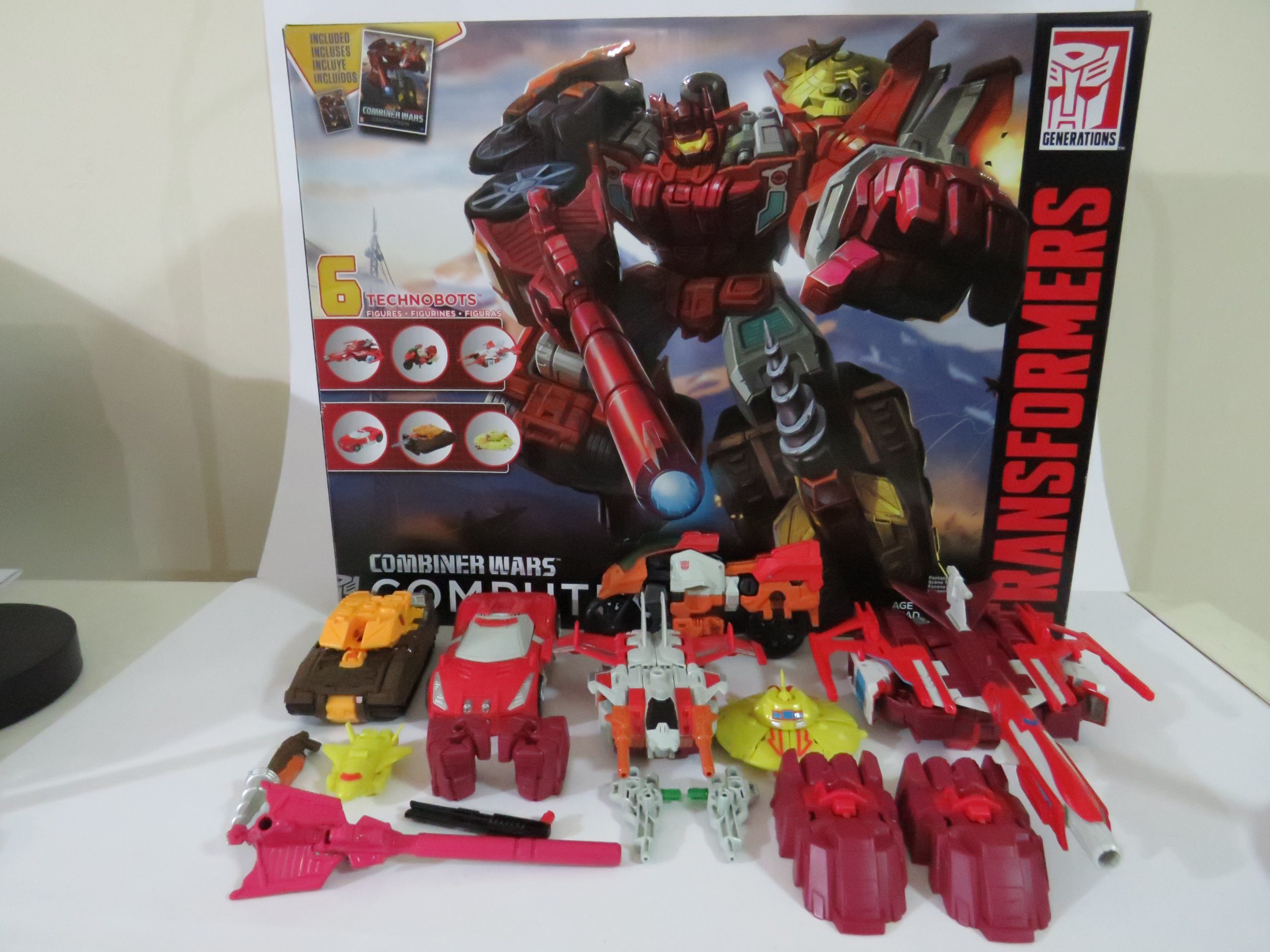 The Computron gift set retails for SGD$199.90 and is available at all good departmental stores. Thanks Hasbro for sending him over!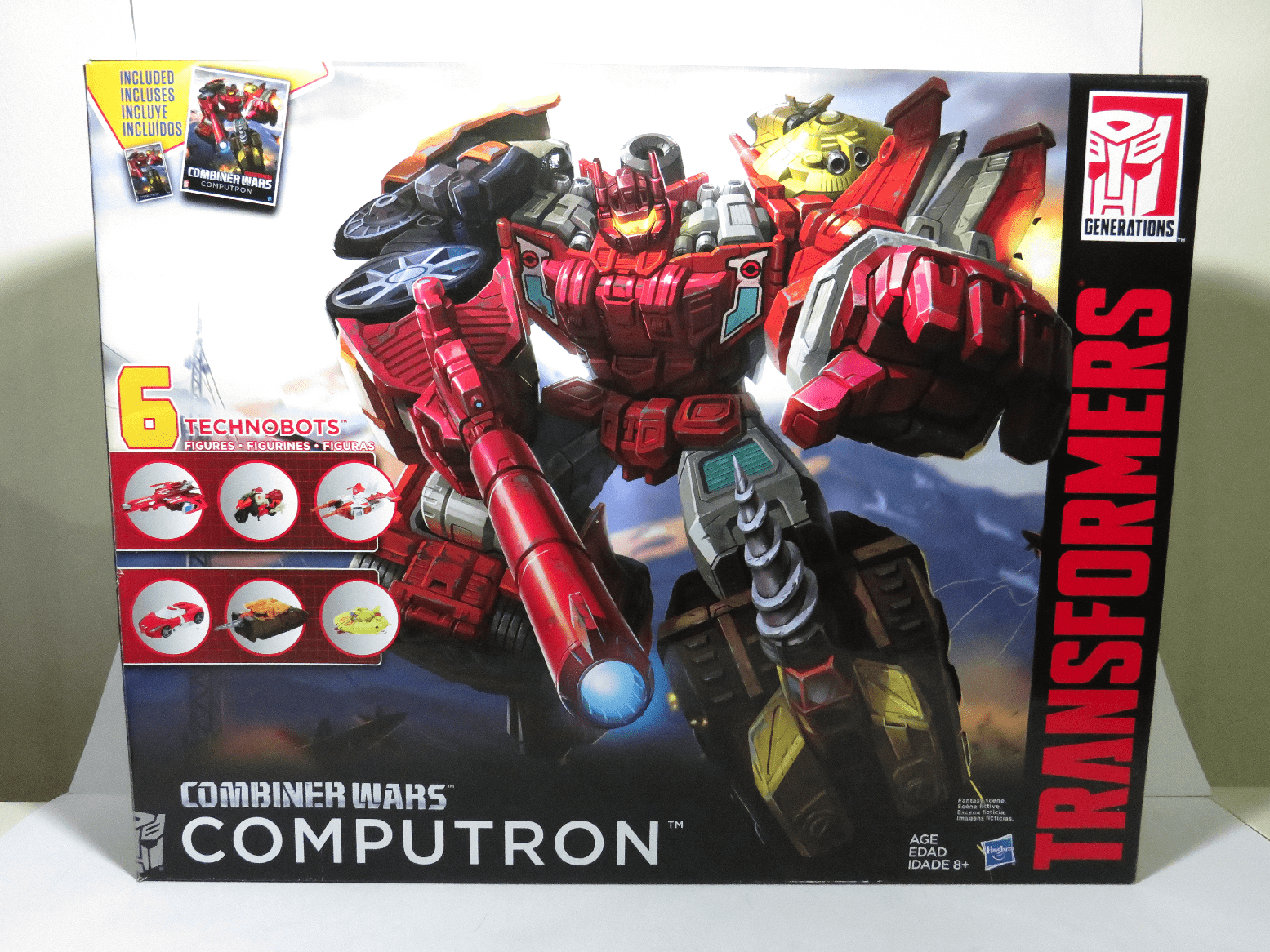 Packaging
As with all the gift sets, the box art for Computron is amazing, showing him as a large, stocky Combiner with a steely gaze. He looks like he's contemplating how best to destroy you, as befits his intellectual nature.
Personally I'll give him psychic powers. I think the convergence of anti-electrons, Unicron, Grimlock, and the Enigma of Combination (I'm mixing continuities) would give him psychic abilities. No?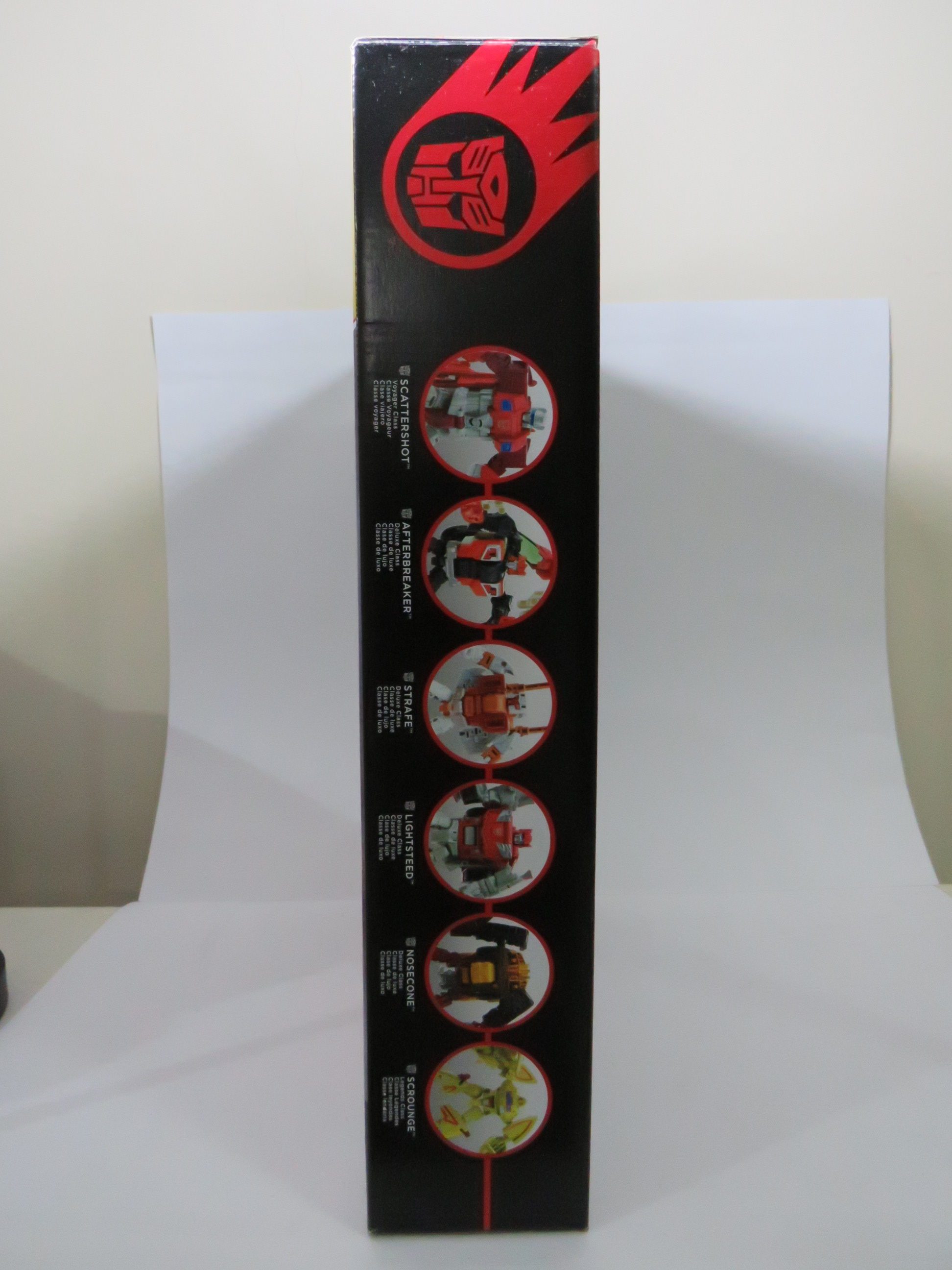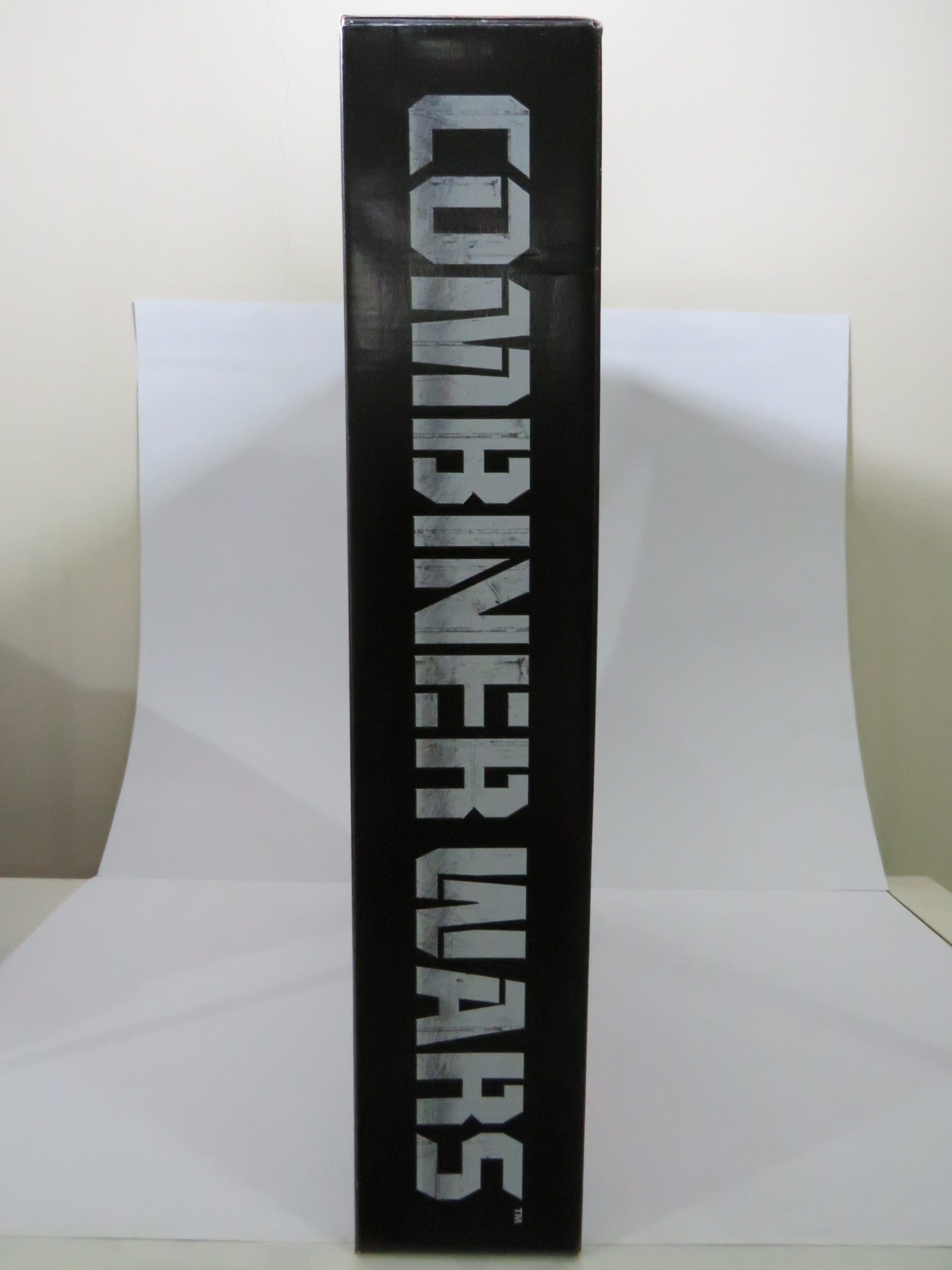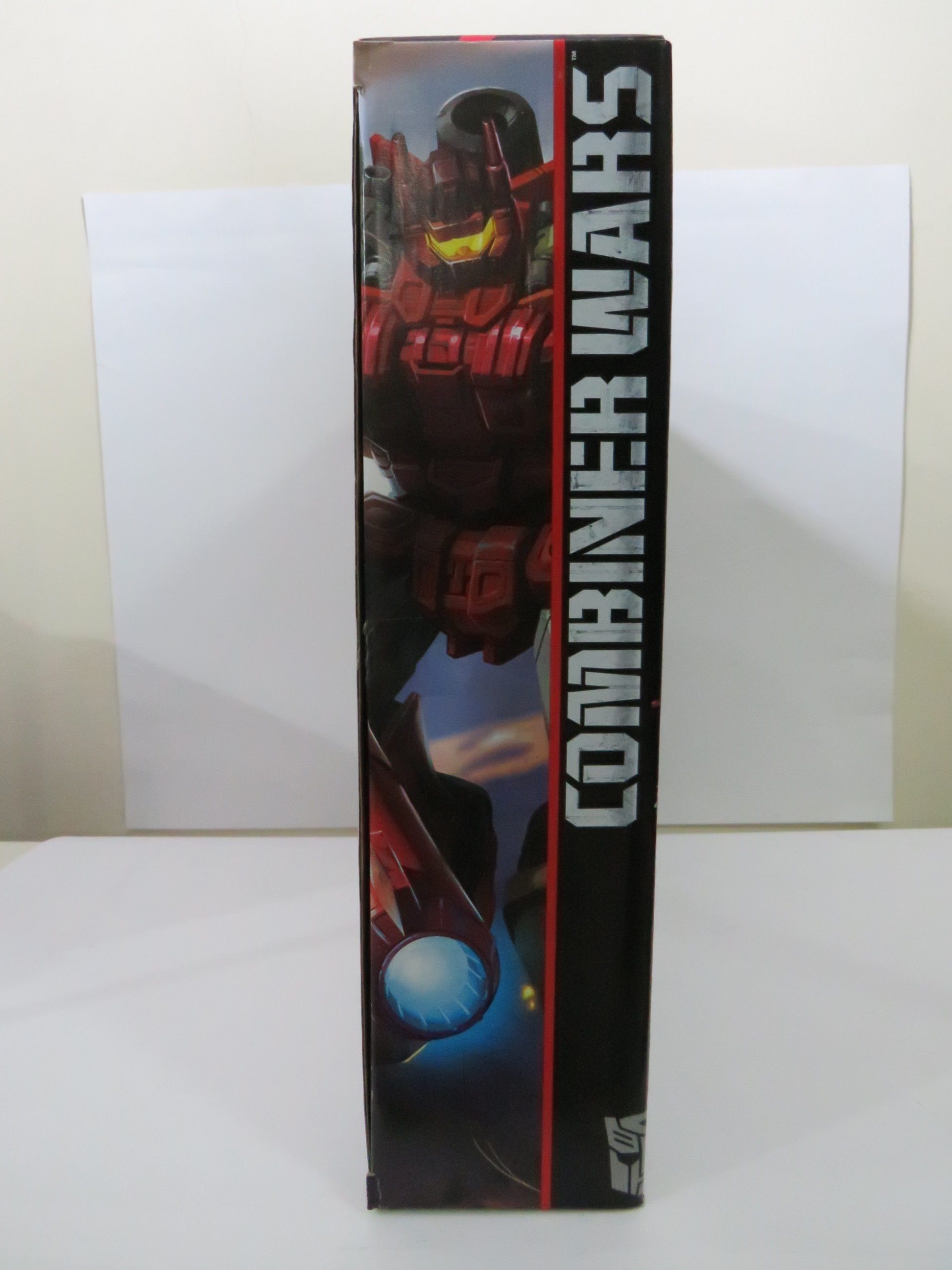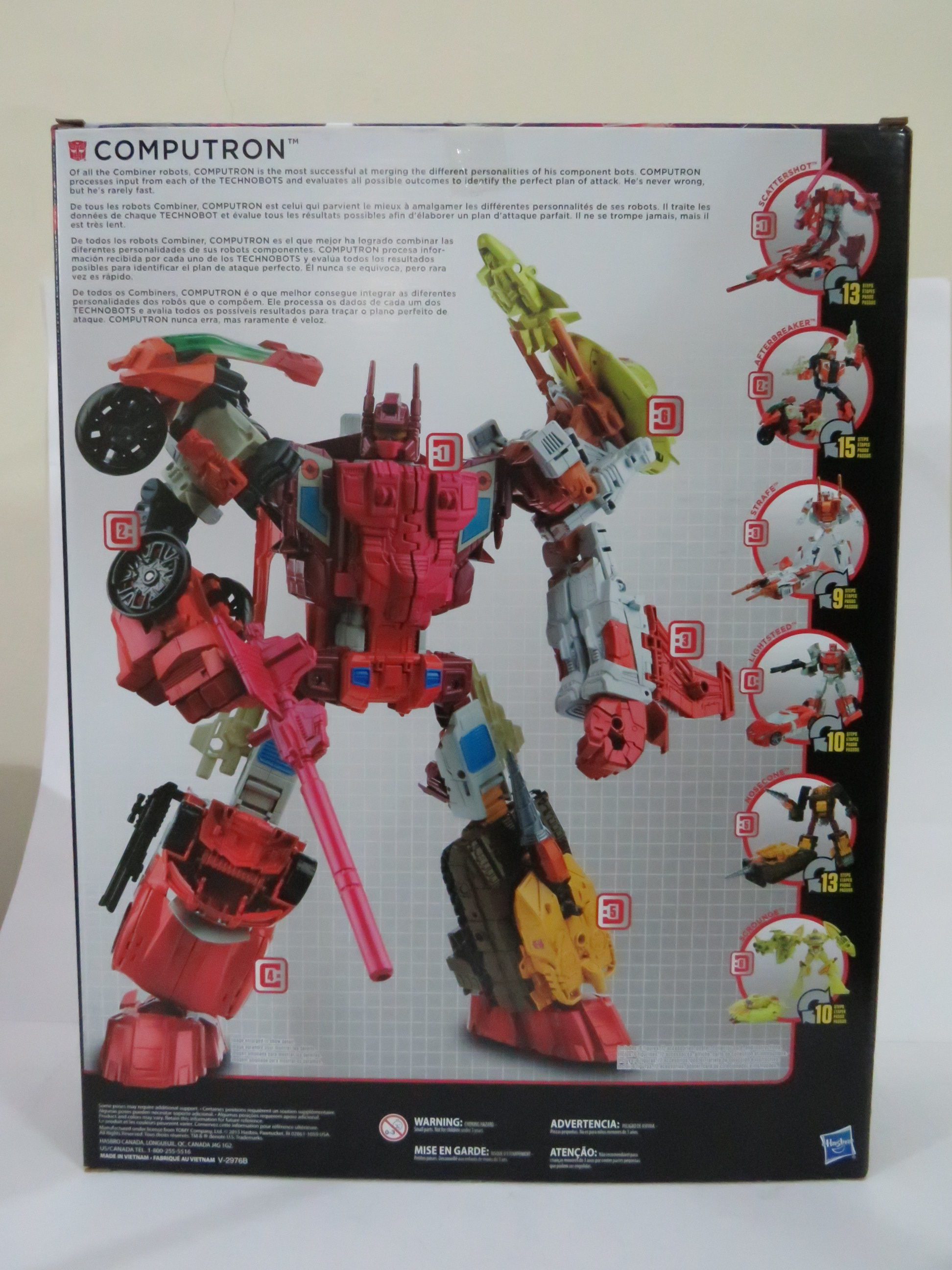 So when I first heard he had seven members, I thought he'd have an additional bot positioned on either one of his shoulders. Afterbreaker's green windshield kibble actually looked like a separate, discrete Transformer at first, confusing me for awhile.
Then I realised that Scrounge's weapon was the last bot.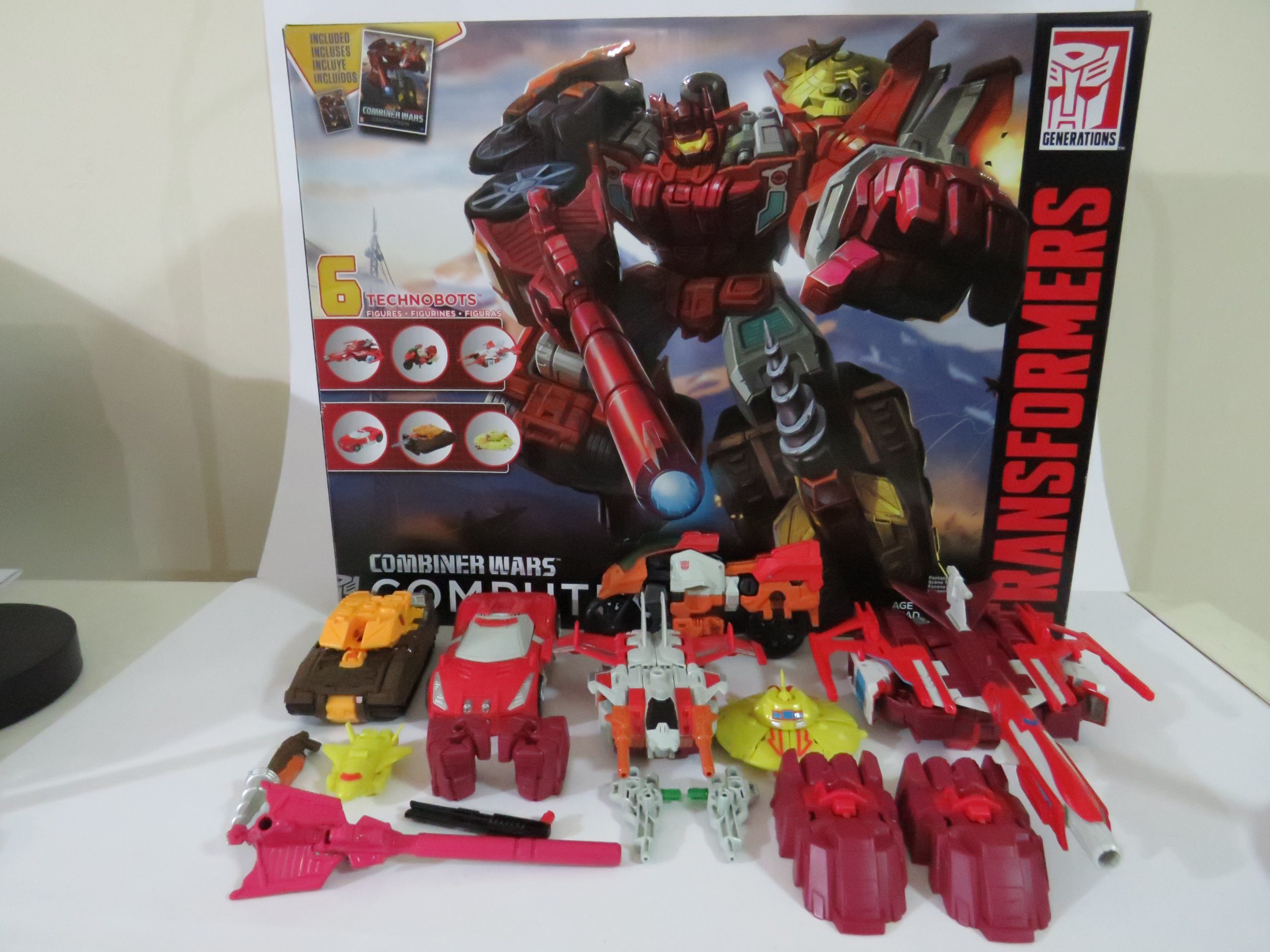 Technobots
Apart from Scrounge and Cybaxx, the Technobots look pretty unified, with every member sharing at least one similar shade of colour with the others. There's a lot of red there. Scrounge makes the effort by having red highlights, so that shades of red run throughout all the Technobots, but he looks like he could have been deployed as a spy by himself.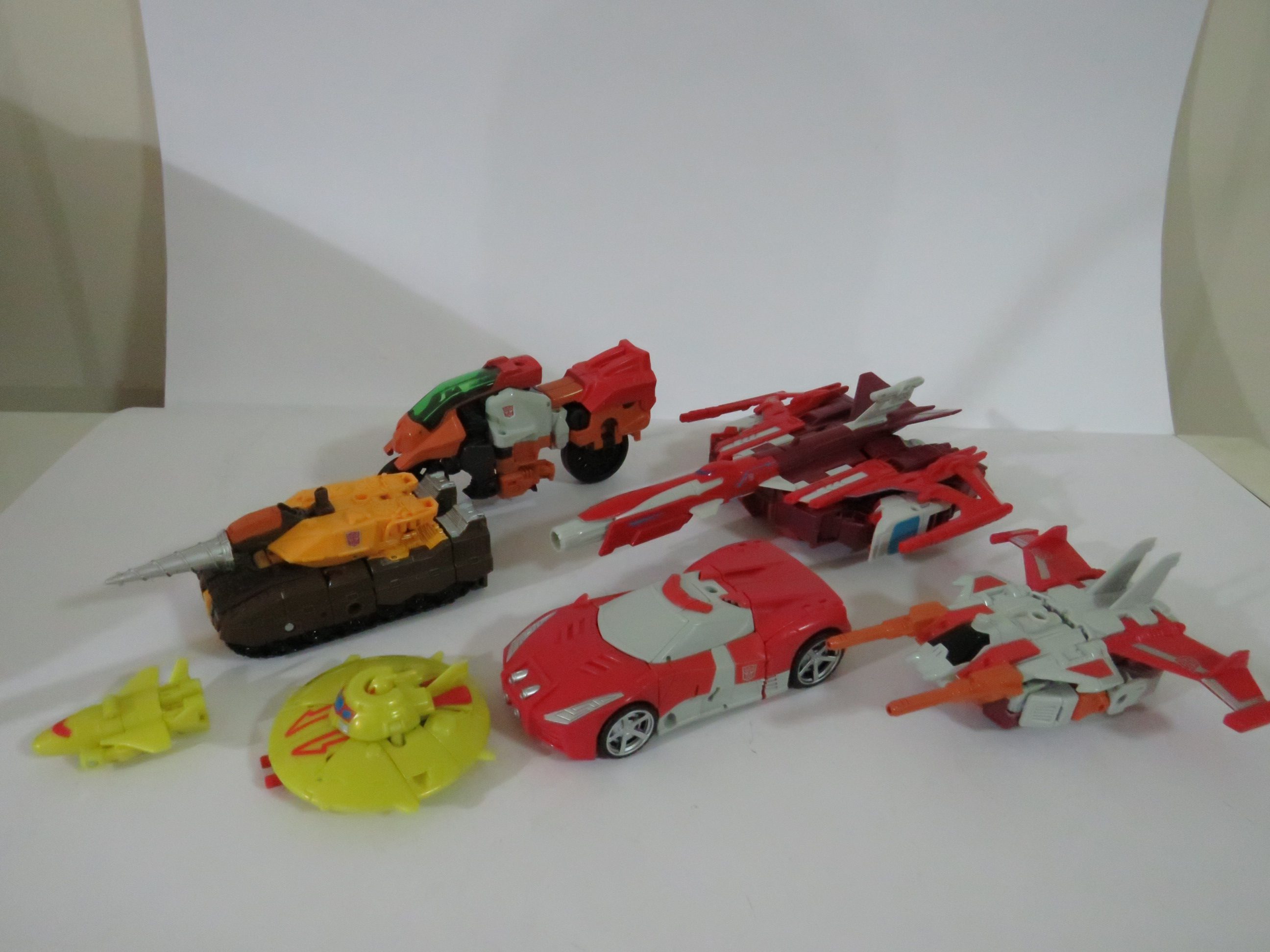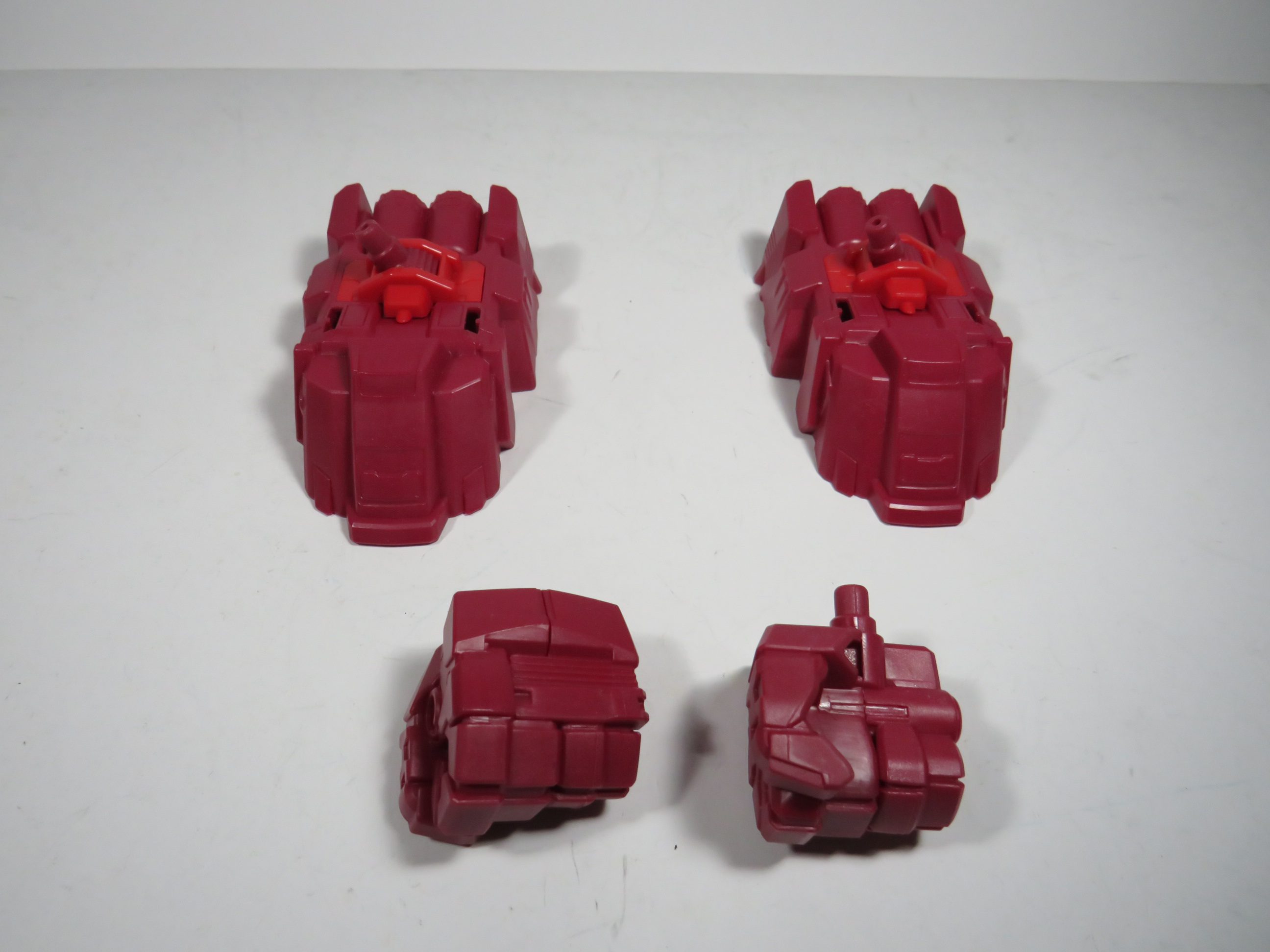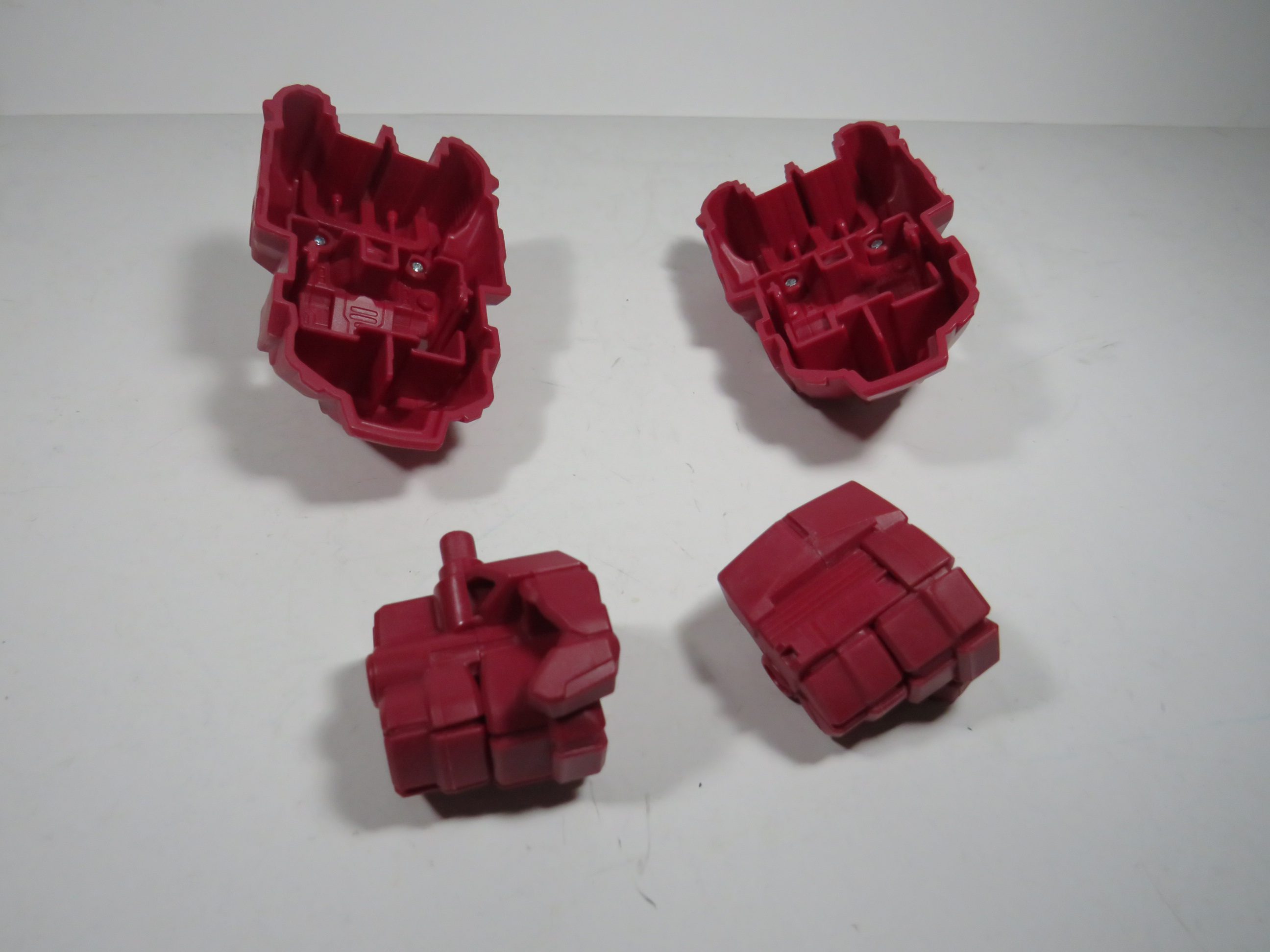 Computron has dedicated hands and feet, like Victorian and a few other Combiners. This makes him a tad taller than the others, especially when you consider the antenna on his head.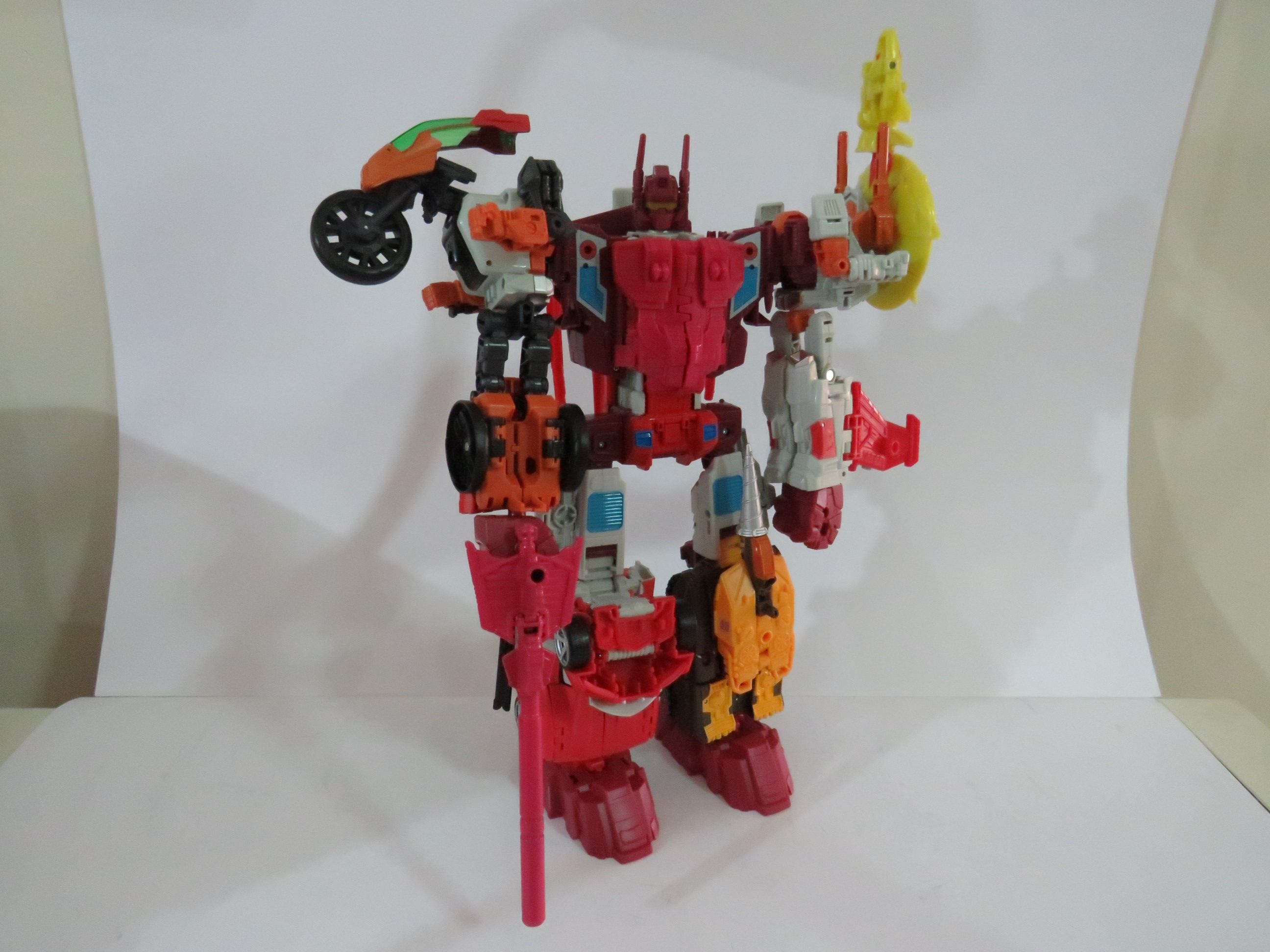 Computron! 
So here's Computron himself! With Cybaxx on his arm, he takes the cake as the tallest Combiner around. I've made an effort to place all of his guns on him since I like to keep all the parts together. The dedicated feet really make a difference in how he looks, since it makes him look more whole and polished. That's pretty important for Computron, since he has many parts sticking out that contribute to his technological feel (numerous gadgets and dongles) that need to be unified by the general humanoid shape.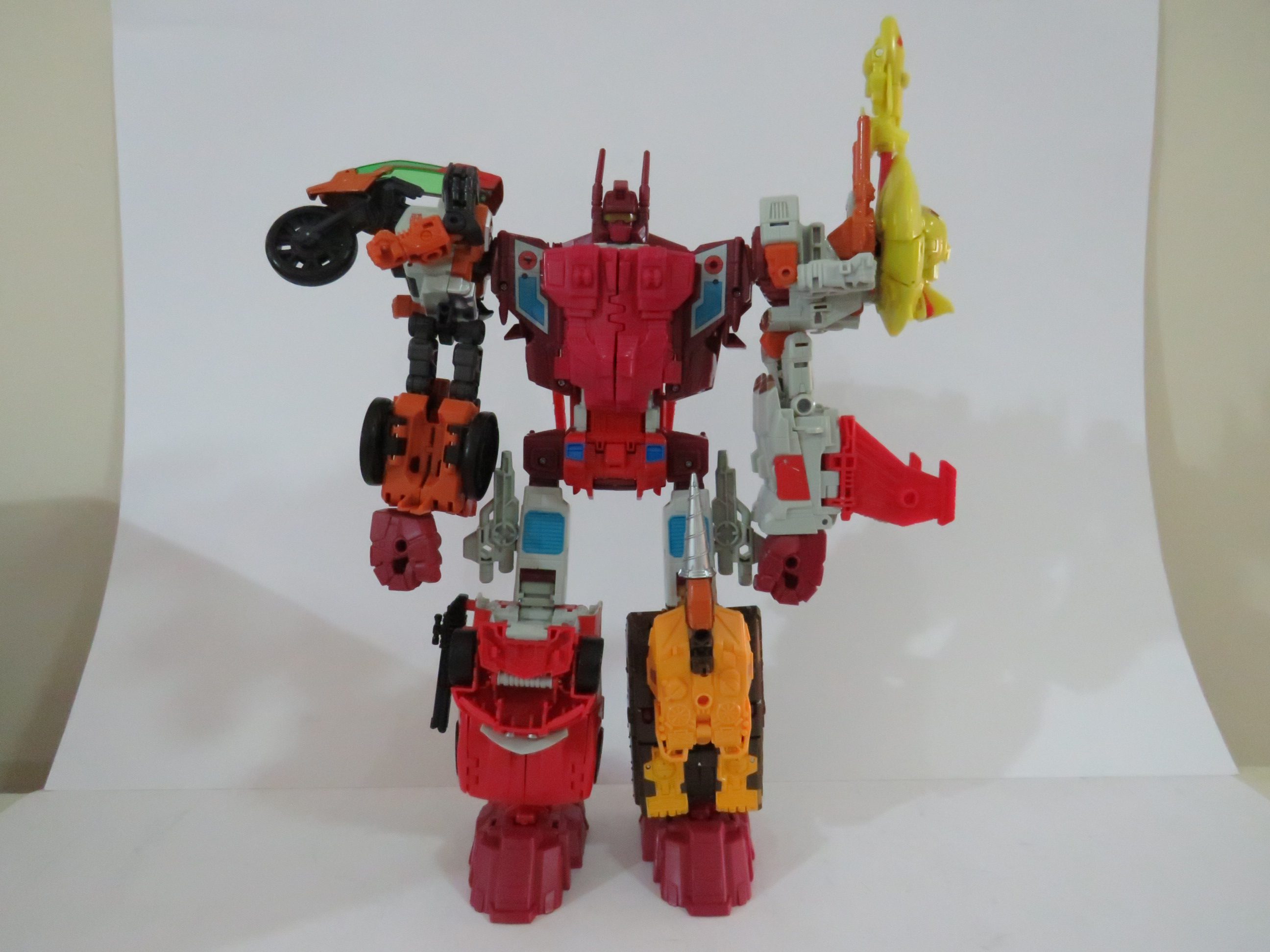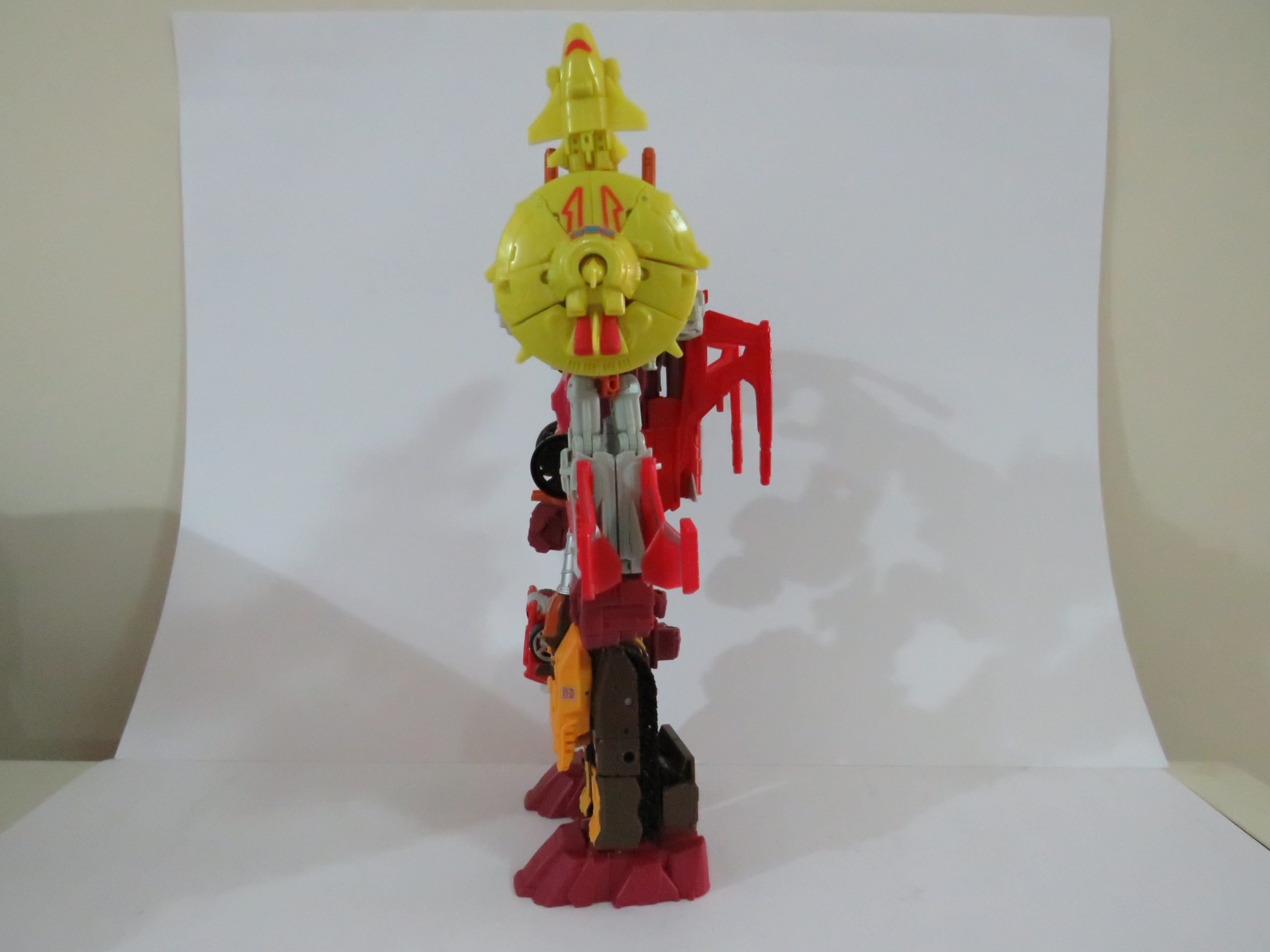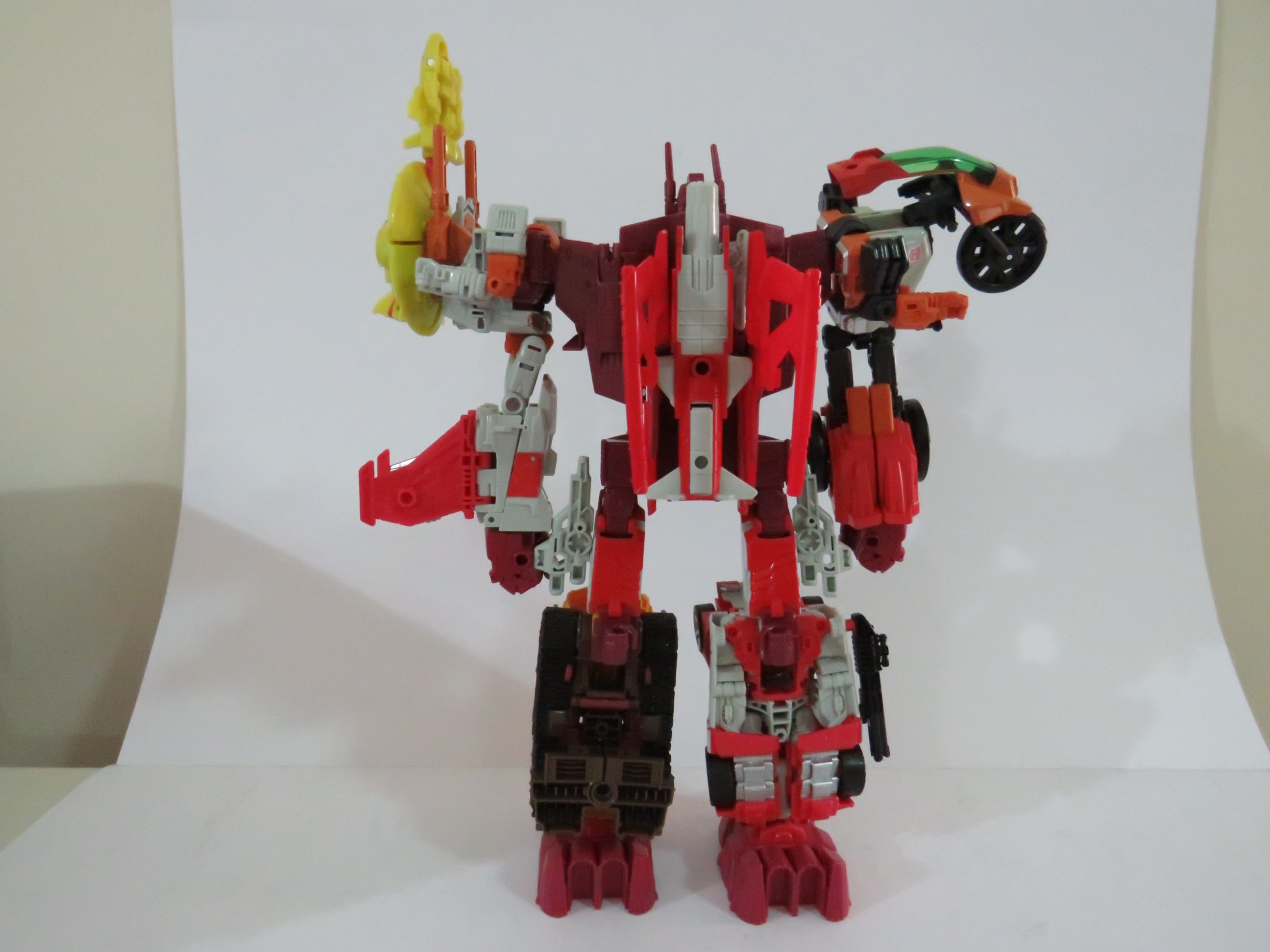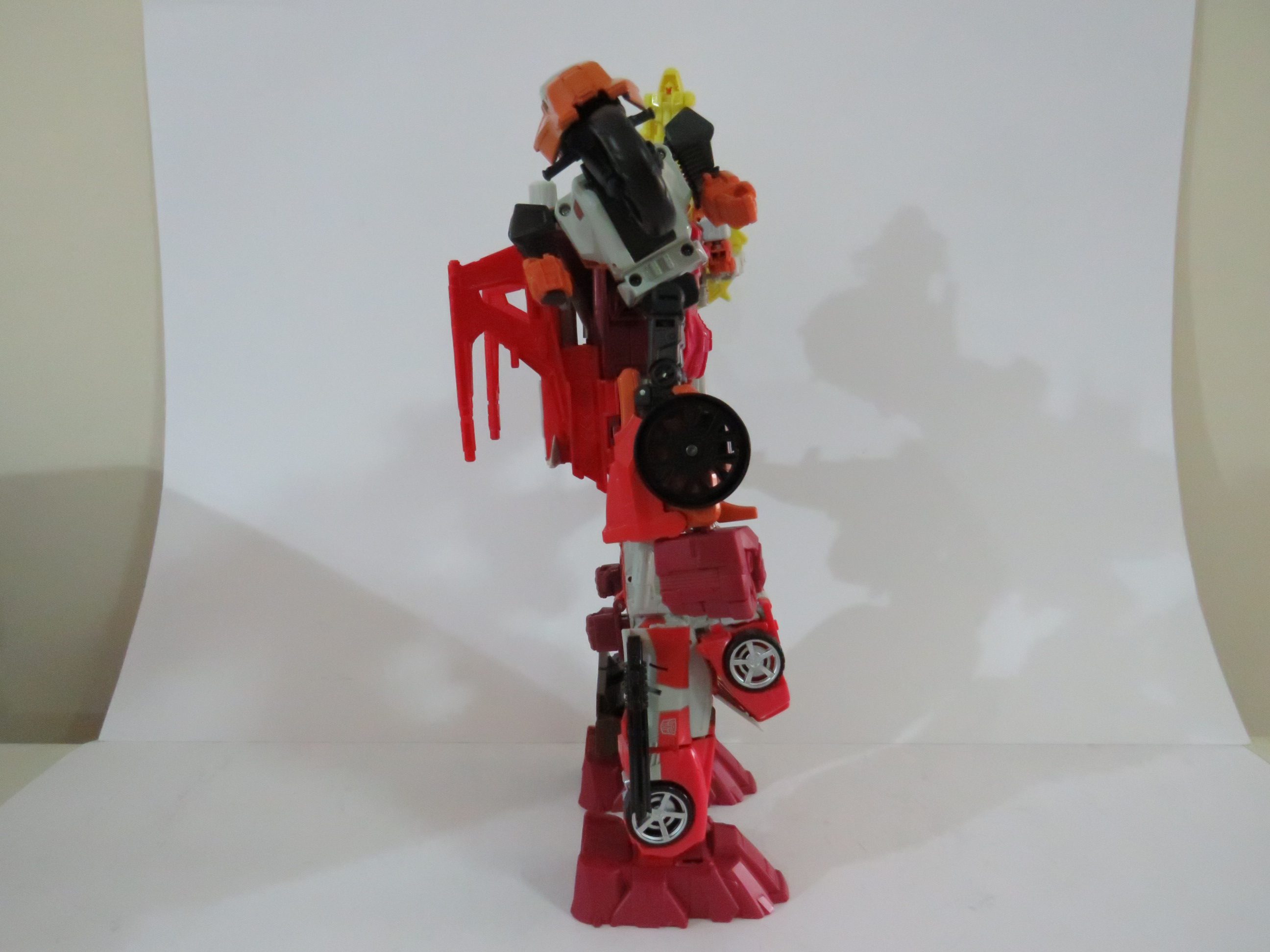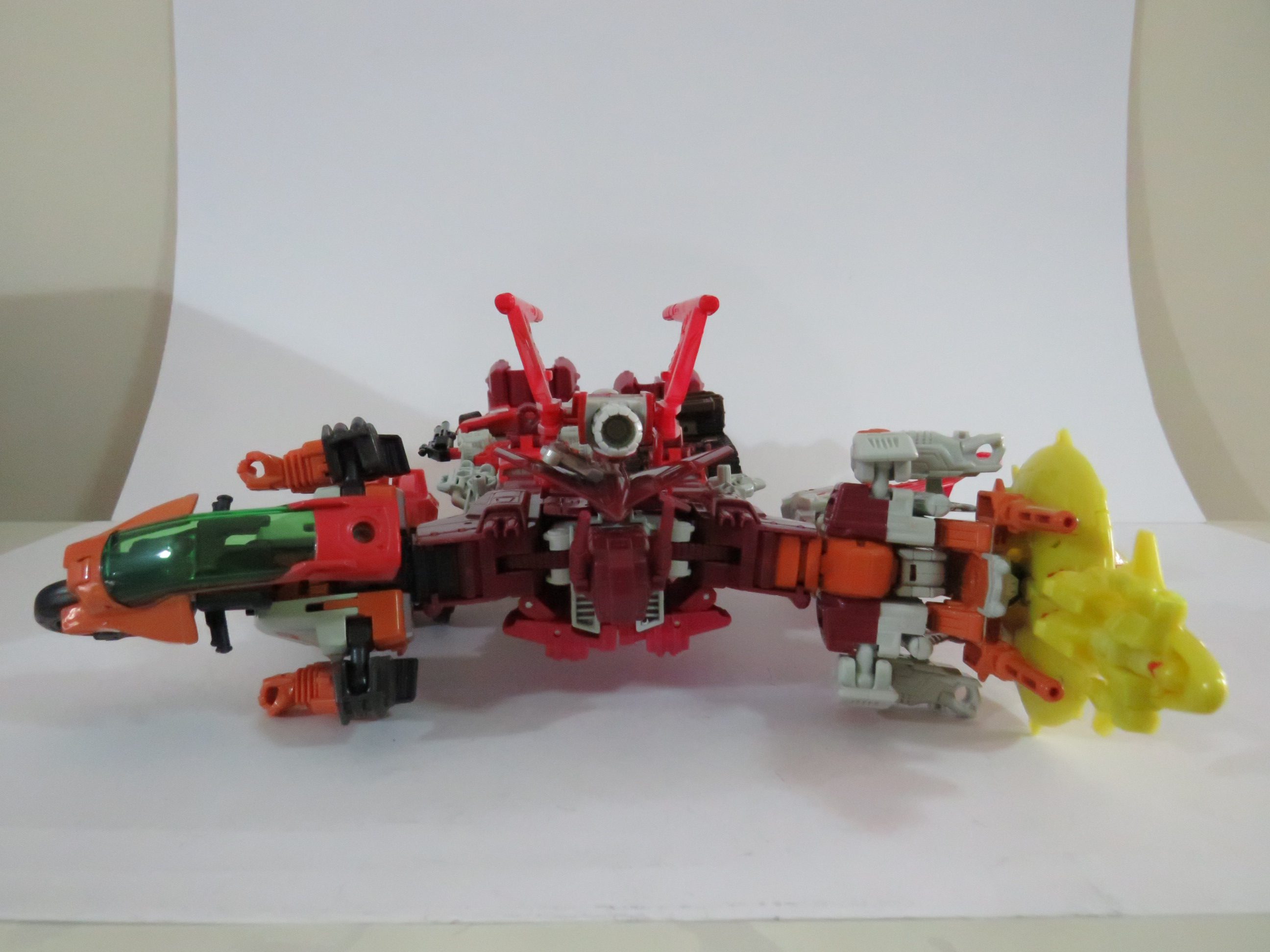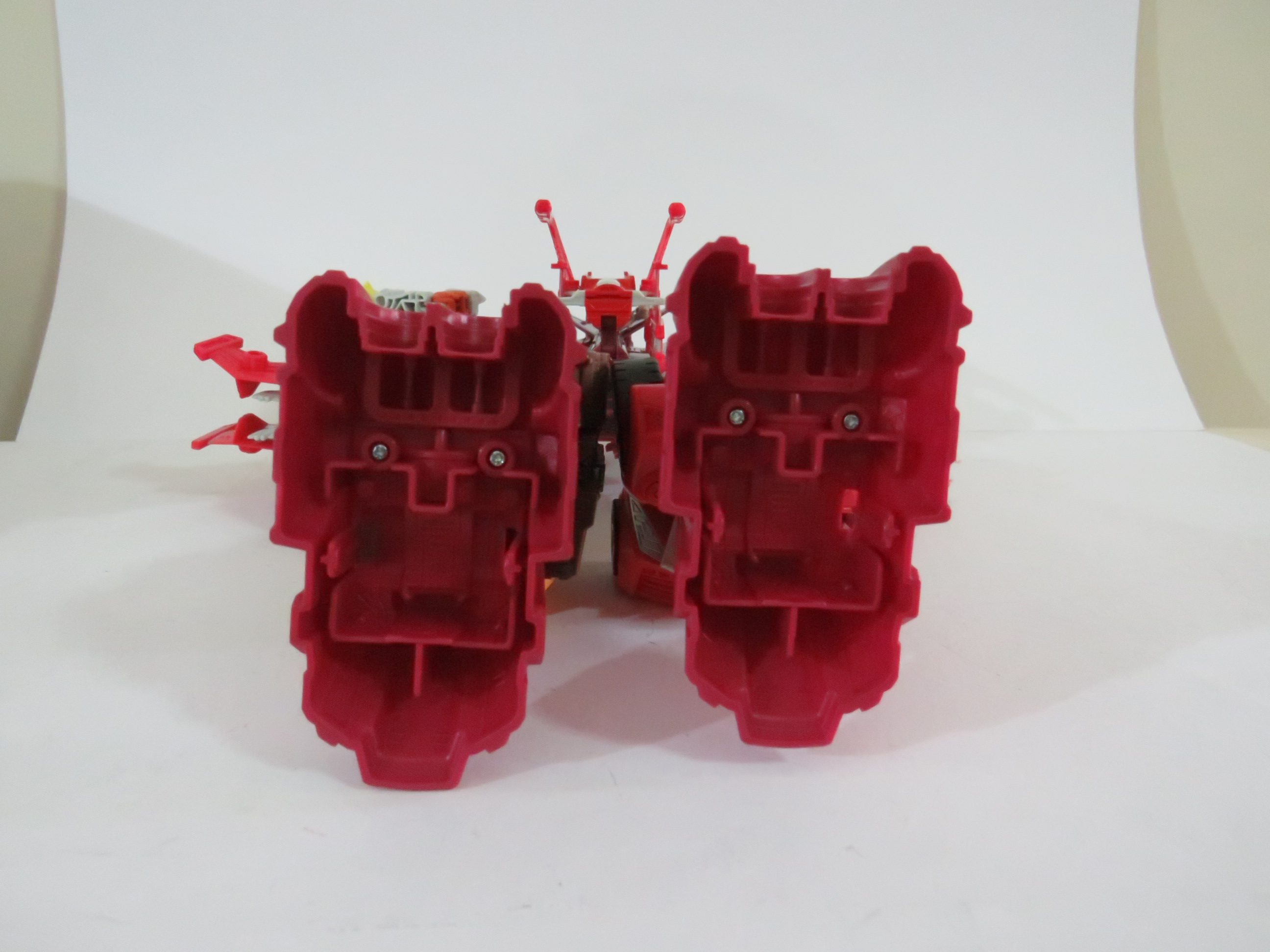 His back looks surprisingly good too. Although you can see his parts and all, the thing is that the kibble ends up looking like additional pieces of equipment for him, meaning that his back looks like he's equipped with additional gadgets that might help him.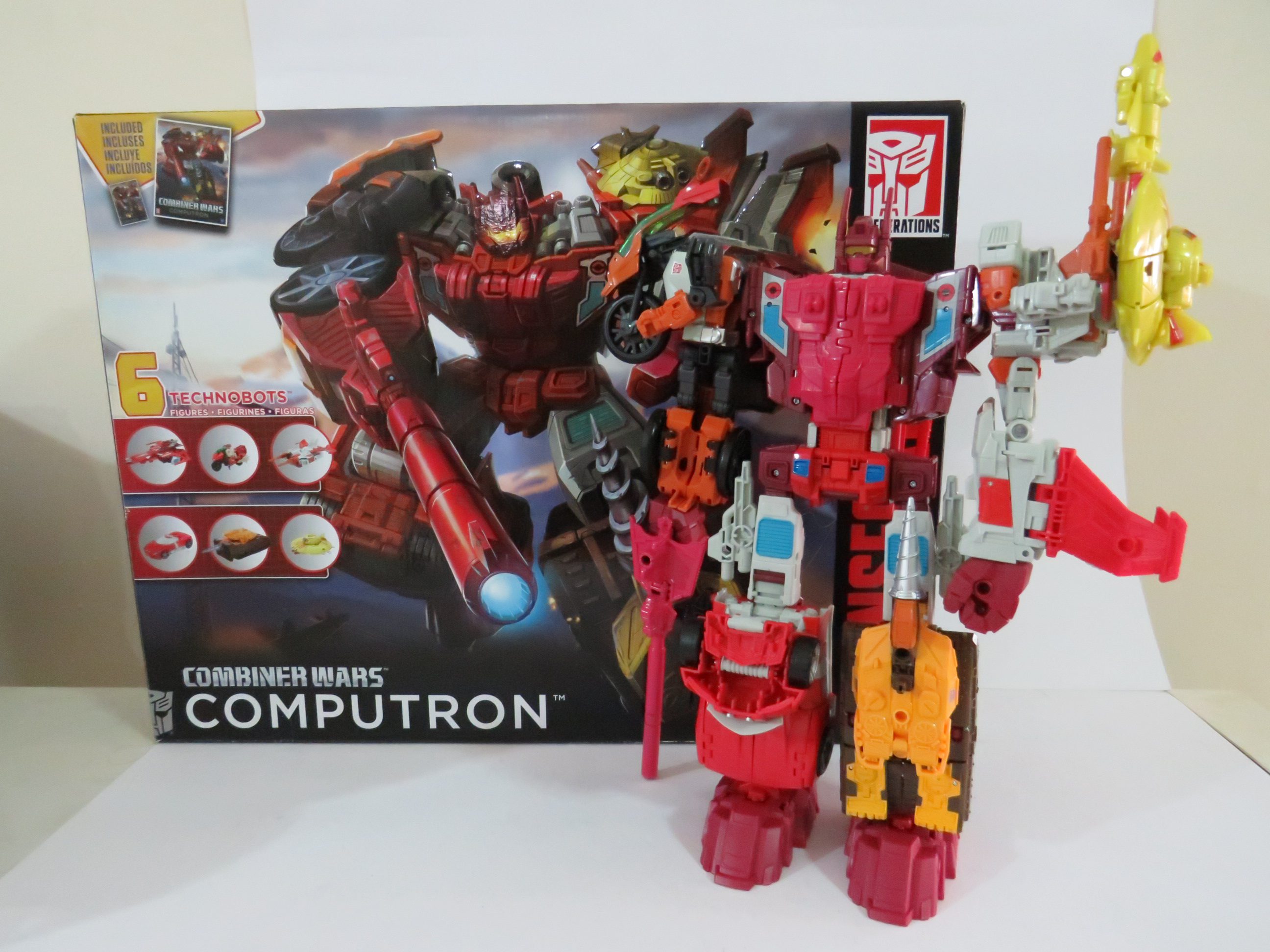 I like Computron. I have a vintage G1 version of him too, just to show my liking for him. I liked the idea of a super smart Combiner, since Perceptor could be a little passive at times.
Before I got him, I was actually contemplating between the Takara version or the Hasbro version. I was ambivalent about the limb choices, and though I felt that Takara's colours were more anime accurate, ultimate the Hasbro gift set would have won me over with Cybaxx, Scrounge, and the dedicated hands and feet.
Check out my other reviews on Computron!
Computron gift set reviews
[Transformers] 'Computron' from the Computron gift set packs more members than most other combiners
[Transformers] 'Scattershot' from the Computron gift set looks villainous and futuristic
[Transformers] 'Afterbreaker' from the Computron gift set looks like the Bumblebee of the Technobots
[Transformers] 'Strafe' from the Computron giftset feels alien and futuristic at the same time
[Transformers] 'Nosecone' from the Computron gift set is one rugged Technobot
[Transformers] 'Lightsteed' from the Computron gift set is like a red Robocop
[Transformers] 'Scrounge' and 'Cybaxx' from the Computron gift set fit the alien theme
Marcus Goh is a Singapore television scriptwriter. He's also a Transformers enthusiast and avid pop culture scholar. He Tweets/Instagrams at Optimarcus and writes at marcusgohmarcusgoh.com. 
If you liked the article, follow me on Facebook and Twitter for more (presumably) good updates!
To get in touch with me, send an email!