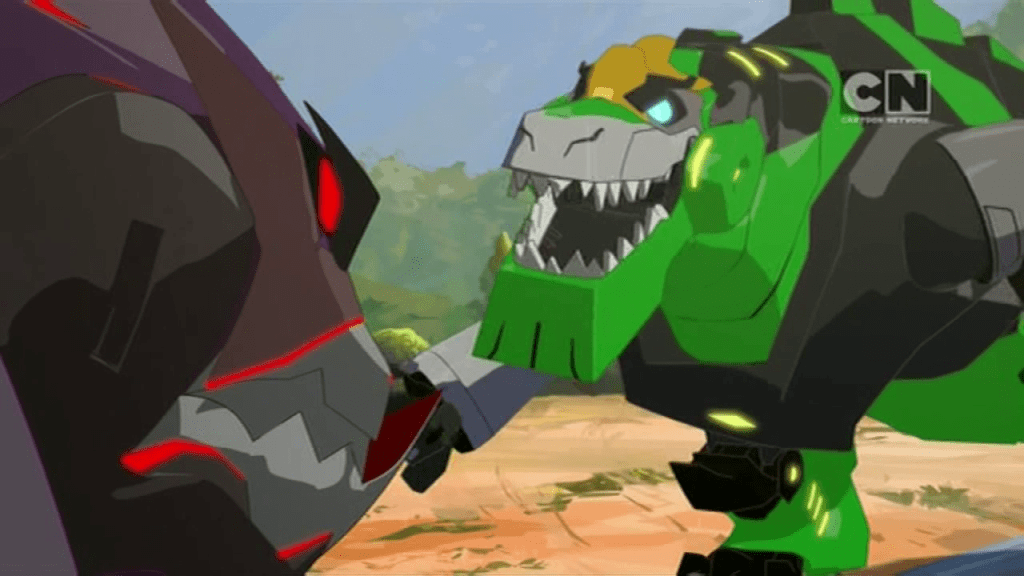 Should you watch this, Wiki this, or wait for the next episode's recap? Wiki this.
Bumblebee, Sideswipe, Strongarm, and Grimlock find themselves in a pitched battle against Underbite as they struggle to overcome the metal-eating Decepticon before he can reach an entire metropolis made of metal! But when Underbite keeps getting stronger after each metallic meal, how can the Autobots hope to defeat him?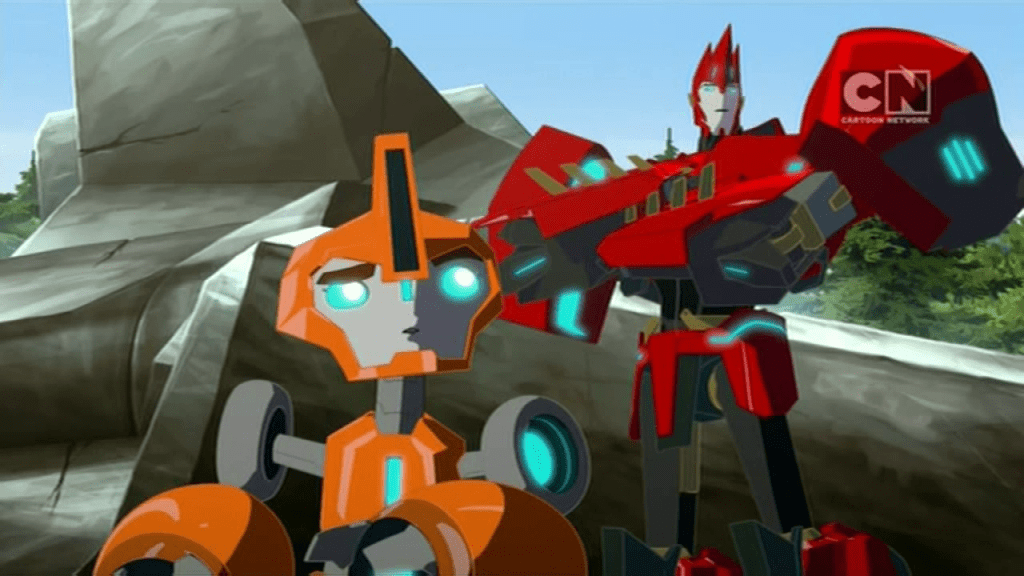 "Pilot (Part 2)" is the second episode of the first season of Transformers: Robots in Disguise. It's the sequel series to Transformers: Prime, and revolves around Bumblebee and his group of cadets on Earth, with a subplot involving Optimus Prime pursuing a mystical mission in the afterlife. This episode sees the entire Autobot team for the first time in action against Underbite.
"Pilot (Part 2)" is… what it is. It's a little bit better than the first episode, what with the large amounts of action, but that comes at the expense of plot. It's a little disappointing because we still don't get any backstory for the new Autobots, especially for Grimlock. Underbite's size scales different at times – a bird is big as his eye, but a car can fit into his jaws? Either that's one giant bird, or the cars are miniscule here.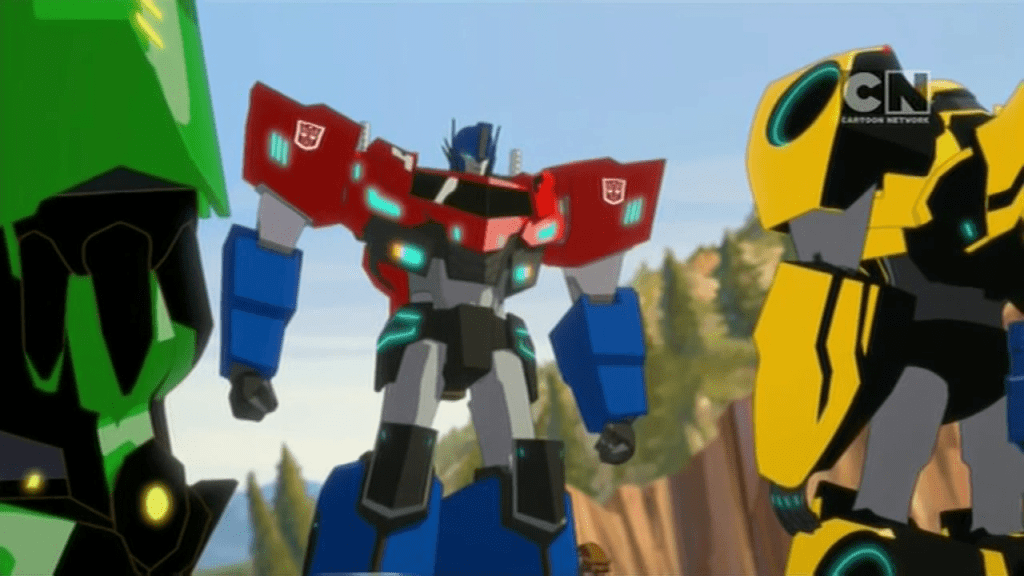 Highlights
Good action
There's no lack of fighting here, and if you want to see giant robots duke it out, this episode has it in spades. The fight takes up a good half of the episode, what with the chasing and actual confrontation. It's also a different kind of fighting than the ones we're accustomed to seeing – it's a pitched melee brawl, rather than a ranged shootout. If anything, this signifies a distinct departure from the usual fighting action in previous Transformers series, which may work out to the favour of this series as its differentiating hallmark.
Optimus Prime's appearance
Yay! Optimus! I mean, he does appear in the first episode too, but at least here he's not a figment of anyone's imagination – he's real and big and powerful. It also puts to rest any doubts about Bumblebee's sanity – he's not hallucinating about Optimus, he's really having visions. Also, we get to see Optimus kick some tailpipe, which is always enjoyable.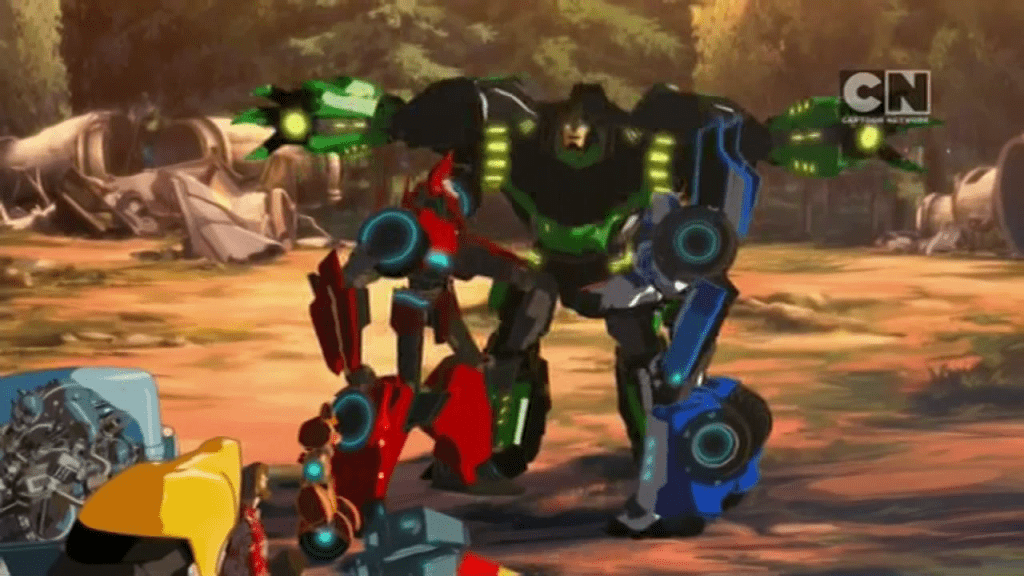 Letdowns
No plot
There is no plot. Underbite escapes, Autobots bring him in. That's it. Perhaps we've been spoilt by the rich and complex plots of Transformers: Prime, but I for one am thoroughly disappointed that the emphasis is no longer on story, but on action. Not that action is bad, but without a direction to head towards or characters that we can get behind, all that action means nothing.
Deus ex machina is painful
As much as I love Optimus, using him as a deus ex machina is just painful. It implies that Bumblebee and the Autobots are too weak to stand on their own. It implies that Optimus will always appear when Bumblebee is in trouble, eliminating all sense of tension. There's no set up for Optimus' appearance. At least having the Autobots defeat Underbite themselves would have given them more credibility. Right now, there's only one antagonist, and an entire team of Autobots couldn't defeat him.
Underbite is unbelievably powerful
Honestly, if Underbite is this powerful, how did anyone besides Optimus subdue him? It doesn't make sense to have a creature that's possibly only surpassed by Optimus & Megatron existing in the first place – nothing can possibly stop him. And since Underbite is a Transformer, it stands to reason he originated on Cybertron, which is a planet full of… metal. How did anyone defeat him on his home planet?
"Pilot (Part 2)" doesn't impress, although the fighting and action is decent fun. Here's to hoping that future episodes show a more competent team of Autobots, and more of Optimus and his quest.