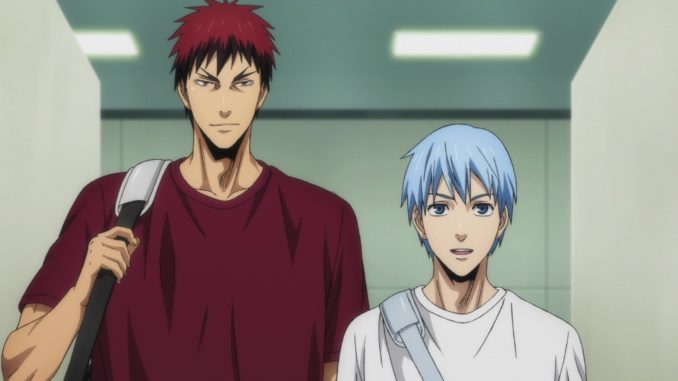 So many movies, so little time. Every month I'll suggest five movies you must watch. Can you catch them all?
Kuroko's Basketball: Last Game (4 May)
An American street basketball team called Jabberwock comes to Japan and plays a friendly match with a Japanese team, but after the Japanese team suffers a crushing defeat, the team members of Jabberwock start mocking Japanese basketball. Their comments enrage Riko's father, and so he gathers a team made up of the five members of the Generation of Miracles plus Kuroko and Kagami, called Vorpal Swords, to have a revenge match against Jabberwock.
So I'm a (casual) fan of Kuroko no Basuke (Kuroko's Basketball), and I'm just happy to see them return in an animated feature! We've always wanted to see the Generation of Miracles come together in a basketball team, but the problem was that they wouldn't have a suitable opponent to face off against. So here they are, back to face a team that's worthy of their skills!
Although IMHO I think that an NBA team would have been a more awesome opponent.
King Arthur: Legend of the Sword (18 May)
Acclaimed filmmaker Guy Ritchie brings his dynamic style to the epic fantasy action adventure "King Arthur: Legend of the Sword." Starring Charlie Hunnam in the title role, the film is an iconoclastic take on the classic Excalibur myth, tracing Arthur's journey from the streets to the throne. When the child Arthur's father is murdered, Vortigern (Jude Law), Arthur's uncle, seizes the crown. Robbed of his birthright and with no idea who he truly is, Arthur comes up the hard way in the back alleys of the city. But once he pulls the sword from the stone, his life is turned upside down and he is forced to acknowledge his true legacy…whether he likes it or not.
I've also been eyeing this Oxford set (read: budget Lego) of King Arthur and the Knights of the Round Table so my interest in Arthurian legends have been growing. Excalibur doesn't have all that many special powers, I realised, it was his scabbard that was cooler. Of course, King Arthur lost the scabbard (which would prevent death by injuries) when Morgana le Fay stole it.
But yes, more knights and jousting! I liked "A Knight's Tale" but I'm sure this will have a more serious tone.
Lucky Boy (18 May)
LUCKY BOY chronicles several decades of the lives of Lin Yu (Wang Weiliang), his family, friends and Qingqing (Venus Wong) – the girl whom he falls in love with in primary school and continues pinning for throughout his tumultuous and eventful life. Lin Yu is always one step behind others and surrounded by misfortune… Will Lin Yu, the destined "unlucky" boy, be able to change his fate?
This sounds like a heartwarming, nostalgic film that will take a more artistic look at the Singapore of yore. It's also rooted in a love story that takes starts in primary school (haven't we all had crushes in primary school)? Sound like a more heartlander, relatable Singapore film.
PSLE yo!
Diary of a Wimpy Kid: The Long Haul (19 May)
In DIARY OF A WIMPY KID: THE LONG HAUL, based on the record-breaking book series, a family road trip to attend Meemaw's 90th birthday party goes hilariously off course—thanks to Greg's newest scheme to (finally!) become famous.
I'm not entirely sure what this instalment entails, but the "Diary of a Wimpy Kid" series is quite interesting and it's cute. I'm suggesting it based on the fact that it's cute, yes. Why wouldn't you want to watch a "Diary of a Wimpy Kid" film?
It's also less intense and a good break from the usual serious movies or superhero/fantasy films.
Pirates of the Caribbean: Salazar's Revenge (25 May)
Johnny Depp returns to the big screen as the iconic, swashbuckling anti-hero Jack Sparrow in the all-new "Pirates of the Caribbean: Dead Men Tell No Tales," a rip-roaring adventure that finds down-on-his-luck Captain Jack feeling the winds of ill-fortune blowing strongly his way when deadly ghost sailors, led by the terrifying Captain Salazar, escape from the Devil's Triangle bent on killing every pirate at sea—notably Jack.
The son of Will Turner (Orlando Bloom) appears in this film, played by Brendon Thwaites. That's how long the series has been around, in-universe, even though Jack Sparrow doesn't seem to be suffering from the ravages of age. I liked the more epic Davy Jones-type villain, but Captain Salazar sounds like he might be interesting as well. Better than the villain from "Pirates of the Caribbean: On Stranger Tides" though.
---
Marcus Goh is a Singapore television scriptwriter, having written for Police & Thief, Incredible Tales, Crimewatch, and Point of Entry. He's also a Transformers enthusiast and avid pop culture scholar. You can find him on social media as Optimarcus and on his site.
If you liked the article, follow me on Facebook and Twitter for more (presumably) good updates!
To get in touch with me, send an email!