It's been a long time since a film had me laughing out loud in cinemas, but "Marry Me, Dude" does exactly that — despite the fact that it's in French (which I don't quite understand). It has English subtitles, and that's enough to understand the movie enough to appreciate the varying levels of humour.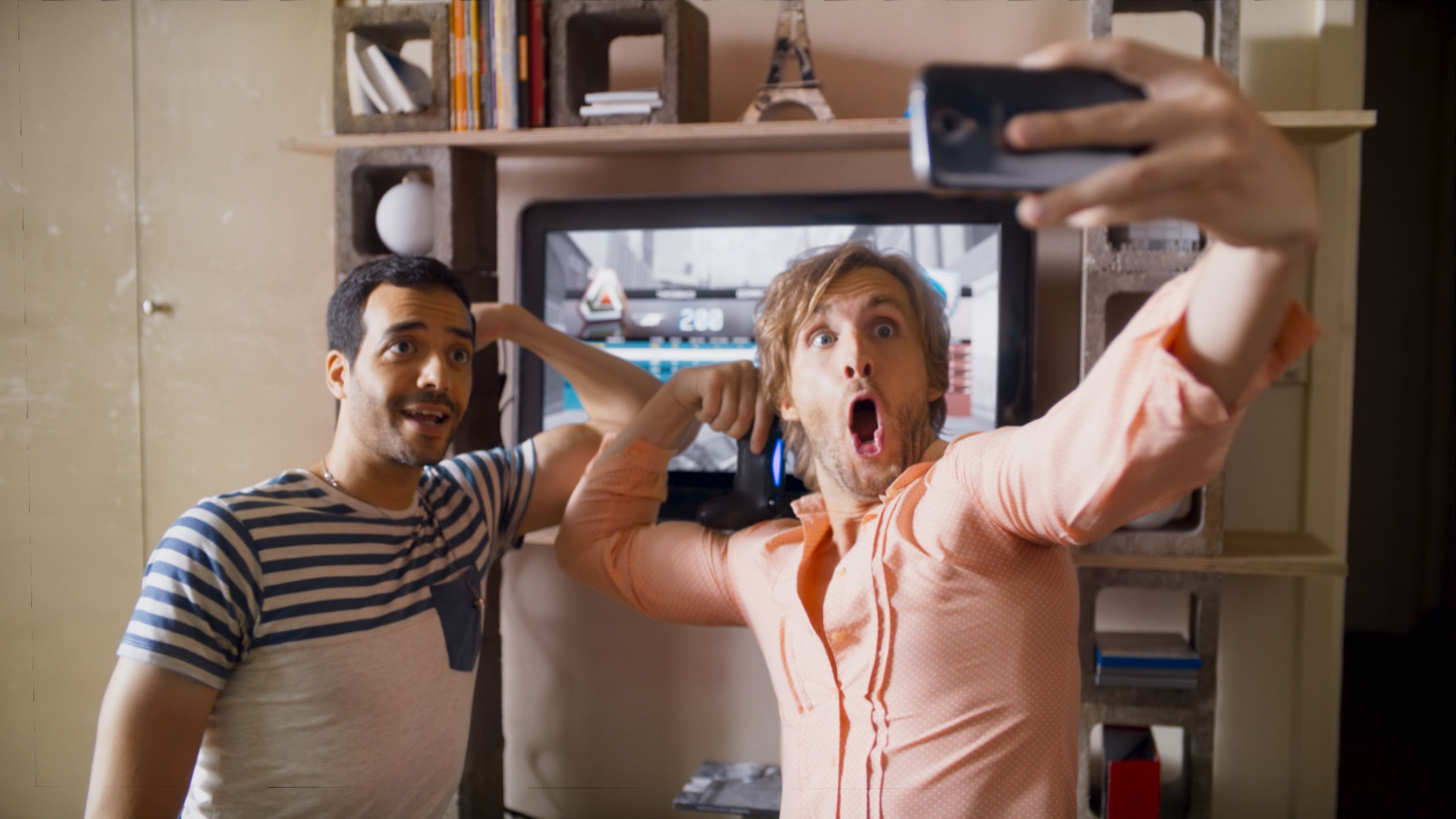 The comedy revolves around Yassine (Tarek Boudali) and Fred (Philippe Lacheau), male buddies who embark on a gay sham marriage in France so that Yassine, who's Moroccan, can continue staying in the country. Unfortunately, a dogged policeman is out to prove that their marriage is fake, Fred's girlfriend is rather unhappy with the situation, Yassine's highly traditional mother comes for a visit and his old love interest re-enters his life. The pair have to juggle the pretence of being in a gay marriage without ruining their respective lives. And all this takes place in 92 minutes.
Understandably, one of the greatest strengths of the movie is its fast pace. Scenes are snappy and quick without feeling rushed, and the plot moves on from beat to beat without any leaps of logic. There's barely a wasted minute or bored second because events unfold at a speedy pace throughout the movie. This rhythmic plotting elevates the humour of the film, since it puts you in the mood for rapid banter and physical humour.
"Marry Me, Dude" also handles physical humour well. While it's still arguably slapstick, the visual comedy is used sparingly and in the most unexpected ways. As a result, you rarely see such jokes coming and they're one of the most effective comedy tools that the film uses. In a film where multiple sight gags are used and the juxtaposition of incongruous images are what makes it all funnier, it's impressive to note that the slapstick moments can still elicit a laugh, perhaps thanks to the reactions of Tarek Boudali.
Boudali doesn't just play the protagonist of the film — he's also the director. Usually, it's difficult to be on two sides of the camera in any production, since one will lack the objectivity required to critique performances and direct actions. So it's a pleasant surprise to see that he does admirably in both roles with good scene compositions and direction, as well as an earnest performance of Yassine, the well-meaning, but completely clueless character.
Yassine holds the film together, since he's the one who triggers the inciting incident. Despite his ridiculous choices and sometimes questionable logic, there's no doubting his sincerity in caring about the people around him. He's also clearly heterosexual, and finds it difficult to hide this when the plot calls for it. Although there are some instances where he forgets which persona he plays and he can be seen behaving straight when he should be gay and vice versa, his performance is generally consistent and his comic timing is superb, as are those of his co-stars.
Despite being a fairly controversial comedy, it has none of the grittiness or complicated discussions you might expect. In fact, it plays the trope straight (pardon the pun) and ends with feel-good vibes. Even with a short running time, it manages to give almost all the characters a proper arc and ties up their storylines, which is no mean feat given that more experienced directors have had trouble managing smaller casts of characters.
"Marry Me, Dude" is proof that good comedy transcends language barriers, with audiences (inclusive of yours truly) bursting out laughing during the screening. It's also one of the rare films where the same person (Boudali) directs and acts, and wears hats both well. For his first film, Boudali exceeds expectations and demonstrates his talent, and this reviewer looks forward to more films by the actor-director.
Should you watch this at weekday movie ticket prices? Yes.
Should you watch this at weekend movie ticket prices? Yes.
Score: 4.0/5
Secret ending? No.
Running time: 92 minutes (~1.5 hours)
"Marry Me, Dude" is a French comedy.
"Marry Me, Dude" is directed and written by Tarek Boudali, with additional writing credits for Khaled Amara, Pierre Dudan, and Nadia Lakhdar. It stars Tarek Boudali (Yassine), Philippe Lacheau (Fred), Charlotte Gabris (Lisa), David Marsais (Stan), Baya Belal (Ima), Philippe Duquesne (Dussart), and Andy Raconte (Claire). It is rated M-18.
"Marry Me, Dude" opens in cinemas:
– 28 December, 2017 (Singapore)

This article first appeared on and was written for Yahoo Singapore.
---
Follow Marcus Goh (yes, referring to myself in third person) on Facebook and Instagram for more (presumably) good updates!
I'm a Singapore television scriptwriter who's written for Lion Mums, Crimewatch, Police & Thief, and Incredible Tales. I'm also a Transformers enthusiast and avid pop culture scholar. You can find me on social media as Optimarcus and on my site.
Send me an email if you want to get in touch!
---
---